Risky Bets, Family Values, And The Politics Of Tebowing: A Chat With Fox's Eric Bolling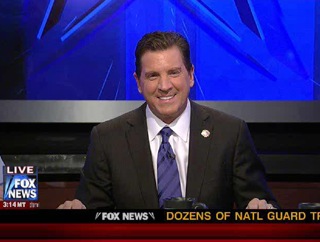 If you have turned on Fox News during any hour of the day in the past several months, you know who Eric Bolling is. The host of Fox Business's Follow the Money and co-host of The Five can be seen on nearly every program– from Fox & Friends to filling in on The O'Reilly Factor, and his swing-for-the-fences opinions have made him as popular as he is controversial on the network. Bolling opens up to Mediaite about how he ended up in the cable news business, his favorite television moments, and what plans may be in store for the future.
Bolling was never a political personality by trade– in fact, if you ever caught him hosting Glenn Beck, you'd remember his first trade was as a professional baseball player for the Pittsburgh Pirates. An injury cut his athletic career short, and he eventually ended up on the trading floor of the New York Mercantile exchange. "I was competing with the big banks. Early on I saw it was oil company trading with investment bank on Wall Street, and I said, 'There must be a way to compete with this,'" he notes, and found himself doing quite well in commodities trading. So well, in fact, that he caught the eye of a CNBC reporter on the trading floor, and the rest is essentially history. Bolling went on to help put together what is now CNBC's Fast Money. His departure to Fox Business, he has recalled several times, was a decision made the same way every other single decision is made or conclusion arrived at: what the best thing would be for his son. Fox Business offered hours more compatible to quality time with the younger Bolling, and it wasn't a difficult decision to make from there.
"I test everything with: How would this affect my 13-year-old when he becomes an adult?"
During his tenure at CNBC, he first developed a taste for challenging the norms. He fondly remembers his biggest challenge there, against Mad Money star Jim Cramer. "I was the guy that had all this trading experience… a lot of skin in the game. I heard Jim Cramer was getting a little upset with me because he was the big dog, he had Mad Money, he had this huge persona and whatnot, then I was starting to get some popularity. I like energy markets, I like metal markets, and I said, 'you have to be careful with the financial markets.' This is before the meltdown. So he booked himself on our show—now, we'd never had guests up until that point," he explains. "So I hear he's coming on and coming after me. And I did what I do best, I have a tendency to fight back and, sure enough, he came at me." He went on to bet Cramer $50,000 on the air — for charity — that the financial markets would be in decline in the very near future. He won. "You talk about defining moments in life? That was my defining moment in TV. Everyone said 'He knows what he's talking about, in the markets.'"
Bolling does not feel that, in the political world, he has different responsibilities as far as what he says on air. "When you talk about financial news, you're talking about peoples' money," he argues. "They listen to you, they take your advice… there are certain principles in life that work whether you're talking baseball, whether you're talking business, or you're talking politics, and they happen to have all the same drivers." For Bolling, that most important driver is the future he and the country leave to his son, Eric Chase. "I have a 13-year-old son, it scares me to think that he's going to grow up in a situation where he may step into adulthood owing hundreds of thousands of dollars to the government, or China, or whomever." He brings that to any and every program on which he appears. "It's an interesting concept that I can take my business background and apply it to the politics of the day, and it works," he notes. No matter what the issue, "I test everything with: How would this affect my 13-year-old when he becomes an adult? If you keep doing that and you stay true to it, then you're not going to get in trouble."
NEXT PAGE: Bolling on the Differences Between Hosting The Five And Follow the Money
Have a tip we should know? tips@mediaite.com