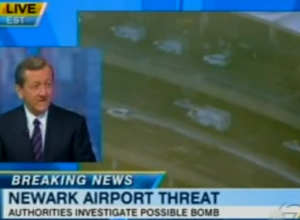 The holiday week started Monday morning with a scare on ABC's Good Morning America. Some of it was real, and some of it, well, wasn't.
The GMA crew called in power player Brian Ross to report and provide analysis on the arrests of twelve people in the U.K.–considered the largest counterterrorism operation in months. Big story, and fittingly, GMA had its chief investigative correspondent on it.

But later, when police found a suspicious package at Newark Airport, things got scarier. Police evacuated a concourse, and GMA producers–who already had Brian Ross in studio–put him on the desk to provide insight and perspective on the unfolding story in Jersey. There was ominous music and a live picture of police vehicles at the airport. And there was Ross, over two segments and nearly five minutes of morning airtime:
"With a backdrop of U.S. authorities warning of a possible threats around this holiday period…obviously, an attack could take place."
When smartly pressed by co-hosts George Stephanopoulos and Elizabeth Vargas, Ross raises the stakes:
Ross is asked "how sure are your sources" that this is, in fact, a bomb:
"TSA officers on the scene say they believe it is in fact some kind of IED…improvised explosive device."

"One concern now is, if it is a plot, it might not just be one airport or one bag, and that's what they're looking for now, and the scramble is on."
Network rivals were quick to bash the use of Ross on a story that ultimately turned out to be a man flying with a computer monitor in his checked baggage–not a bomb. Sources called the coverage "simply reckless, alarmist and sensational."
An ABC spokesperson defended the coverage, saying the overnight arrests–and Ross' own coverage of heightened concerns of a holiday terror attack–made the evacuation of a major airport (even as a precaution) a significant story worth covering. Having a seasoned investigative correspondent in studio and deciding to add him to the coverage was a no-brainer.
The spokesperson adds that throughout it all, Ross–while raising possibilities based on his sources' information–used notes of caution, stressing that there can be "false positives" and false alarms. That, critics say, doesn't explain the decision to devote so much time to the story in the first place.
In fairness to GMA, hindsight on this kind of story is 20/20, but it's certain this particular "plot" won't be covered by Brian Ross on 20/20 anytime soon.
Watch it here, from ABC:
Have a tip we should know? tips@mediaite.com