Christopher: RNC Black Media Director Tells Thomas Roberts Rosa Parks Tweet Was 'Typo,' is 'Old News'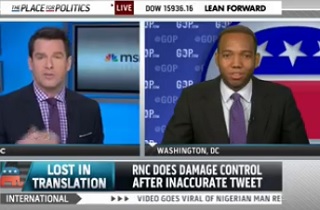 The Republican National Committee (RNC) incurred intense mockery over the weekend when it tweeted about civil rights icon Rosa Parks' role in "ending racism," a condition which doesn't actually appear to have ended. On Wednesday morning, RNC Director of Communications for Black Media appeared on MSNBC Live with Thomas Roberts, and explained that "a tweet went out that had a typo in it," but that "talking about a typo and a tweet, it's old news."
Host Thomas Roberts introduced Orlando Watson, who was hired in October as a response to the RNC Growth and Opportunity Project (better known as the GOP autopsy report), by saying "you've got one of the hardest jobs in America right now," and asked about the "tone deafness of the party as it currently stands?"
Watson thanks Roberts, and said "since this is my first time on your show, I'd like to sort of break some news by setting the record straight. Early Sunday morning, the RNC sent out a statement, a statement right here that a lot of press offices received, as well as MSNBC, honoring the legacy of Rosa Parks."
"A few hours later, a tweet went out that had a typo in it, a typo," Watson continued. "We later clarified that typo, but continued to focus on the statement that honored Rosa Parks, yet no one wanted to cover this statement. A statement that didn't have that typo in it. You yourself noted that, as well as others at NBC. "
Roberts said that MSNBC had covered the statement ,which they received on Monday. He also asked Watson about comments from conservatives that the tweet was nothing to apologize for.
"Thomas, this is our statement here," Watson replied. "I'll read it to you if you would like, but we're honoring the legacy of Rosa Parks. What those other people are obsessing over is a typo in a tweet. A typo in a tweet is old news. We should move forward."
That tweet may have been many things, but it was not a typo, which is a specific thing. A typo would have been "Today we remember Rosa Parks' bold stand and her role in ending racisb."
The RNC's tweet, "Today we remember Rosa Parks' bold stand and her role in ending racism," doesn't match up at all with the portion of their statement that they later used for clarification, which reads ""We remember and honor Rosa Parks today for the role she played in fighting racism and ending segregation."
The offending tweet was what it was, a ham-handed, half-baked paraphrase, and a mistake. It wasn't a typo, and declaring it "old news" three days later demonstrates a further missing of the point. As the story of Rosa Parks demonstrates, even actual "old news" can be important, and its reasonable to think that an offhand misunderstanding of her story might resonate for more than three days.
Roberts also asked why the RNC would send Sen. Rand Paul (R-KY), who has expressed doubts about the Civil Right Act and thinks Republicans lost black voters because black people were "impatient for economic emancipation,"  to lead outreach to black voters, and Watson apparently didn't hear the question. After Watson complained about the President, and promised the GOP would create jobs, Roberts asked "Why didn't the Jobs Act pass in the House?"
"You can ask House Republicans," Watson replied, adding "or House Democrats."
Roberts pointed out that the American Kobs Act had the support of Democrats in the House.
Watson concluded with a promise that Republicans would "remove the red tape and encourage people to hire workers."
Here's the clip, from MSNBC:
[photo via screengrab]
Have a tip we should know? tips@mediaite.com