RNC Chair Priebus On Scandals: Obama Being Either Untruthful Or Aloof And Incompetent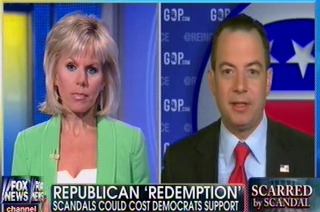 On Tuesday, Republican National Committee Chairman Reince Priebus joined Fox & Friends host Gretchen Carlson to share his thoughts on the unfolding scandals involving the White House. Priebus said that President Barack Obama's statements expressing his shock over the scandals are becoming less believable every day. He added that Obama was either "not being truthful" or demonstrating an "aloofness" or "incompetence."

"Do you believe the president was involved?" Carlson asked of the scandals surrounding the president's administration.
"We've got at least eight people around the president who knew something," Priebus replied. "If the president actually knew something, well then clearly he's not being truthful and no one around him is. If he didn't know anything, than I think it suggests a level of aloofness or perhaps even incompetence that I think is pretty disturbing in its own right."
Carlson asked specifically about the IRS targeting of conservative groups, saying that the scandal has provided some "redemption" for the Republican Party. Priebus called the IRS scandal "un-American."
RELATED: Sen. Rand Paul On IRS Scandal: Obama Is 'Losing The Moral Authority To Lead This Nation'
"It's targeting in the worst way: politically," Priebus noted. "It wasn't just these Tea Party groups, which is bad enough. What about all the individuals?"
Priebus was asked to reply to former Senate Minority Leader Bob Dole (R-KS) who said that the GOP should put out a sign saying "closed for repairs." Priebus said that he expects the party to do well in this year's off-year elections and next year's midterms.
Watch the clip below via Fox News Channel:
> >Follow Noah Rothman (@NoahCRothman) on Twitter
Have a tip we should know? tips@mediaite.com