RNC's Priebus Dismisses Jobs Report: 'We're Still Getting Clobbered' By Obama Economic Policies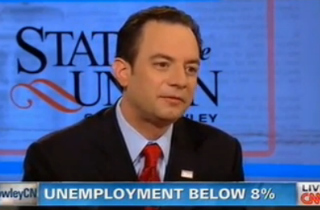 Appearing on CNN's State of the Union this morning, RNC chairman Reince Priebus told host Candy Crowley that this week's jobs report showing unemployment at its lowest since President Obama took office does not hurt GOP candidate Mitt Romney's electoral chances because Americans recognize they are "still getting clobbered" by the administration's economic policies.
Mentioning that the unemployment figures have dipped below 8.0% for the first time in nearly four years, Crowley asked the chairman "does it not undercut what has been the central theme of the Republican campaign which was that [Obama] has made the economy worse? … Doesn't that [7.8% unemployment figure] show that he is on the right trajectory and kind of undermining the central argument for you?"
"I don't think so," Priebus immediately responded before relating the economy to a football game: "If you are getting blown out in a football game but you are scoring field goals once a quarter, you can't point to the three points every quarter and say at least we're scoring some points. We're still getting clobbered."
Priebus then took the opportunity to take a shot at Barack Obama's Wednesday night debate performance: "We saw an unfiltered Mitt Romney and an unfiltered Barack Obama. You saw inspiration, heart, preparedness from Mitt Romney, and you saw a president that came in unprepared, uninspiring," he said.
"You know what, maybe Clint Eastwood was right," he quipped before concluding, "that's what the American people saw last week."
Watch below, via CNN:
— —
>> Follow Andrew Kirell (@AndrewKirell) on Twitter
Have a tip we should know? tips@mediaite.com