RNC Chairman: Obama Is 'Abandoning The Ship' Like Italian Cruise Ship Captain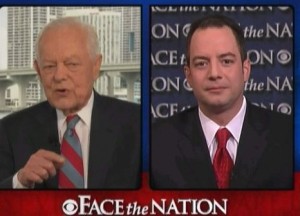 Republican National Committee chairman Reince Priebus appeared on Face the Nation today, and dismissed concerns that the fighting in the GOP was overblown by the media and drew parallels to the 2008 Democratic primary race, but in speaking candidly about President Obama, Priebus compared his leadership to the infamous captain of the Italian cruise ship whose actions proved to be somewhat cowardly when faced with disaster.
RELATED: RNC Chair Accuses MSNBC's Thomas Roberts Of Asking Question 'Loaded With DNC Talking Points'
Bob Schieffer started out the interview by bringing up the Newsweek cover depicting Mitt Romney and Newt Gingrich as Roman warriors, and uncomfortably asked Priebus if he's ever seen Gingrich shirtless. Priebus vehemently denied it, but more seriously, he doubted the race was tearing up the Republican party as much as the media has been making it out to be. After all, he pointed out, current DNC Chairwoman Debbie Wasserman-Schultz was a strong supporter of Hillary Clinton in the 2008 Florida primary, and accused Obama of being a hypocrite at one point.
But Schieffer pointed to remarks made earlier on the show by Donald Trump that there is an unprecedented level of "hatred" in the Republican party right now, and asked Priebus if he thought any of the intra-party fighting going on could damage the GOP. He dismissed such concerns, reassuring everyone that in a few months, all the squabbling will be over and the party will mobilize behind a nominee.
"In a few months, this is all going to be ancient history, and we're going to talk about our own little Captain Schettino, which is President Obama, who's abandoning the ship here in the United States and is more interested in campaigning than doing his job as president."
RELATED: DNC & RNC Heads Clash Over President Obama's Economic Record On Face The Nation
When Schieffer asked him to clarify that statement, Priebus doubled down, and joked that the boats behind Schieffer on camera made him think of it. But Priebus continued to insist that the fighting going on the GOP this time around is no worse than what the Democrats did four years ago, and even disagreed with Sarah Palin's assessment that the race was down to the Republican establishment vs. conservative activists.
Watch the video below, courtesy of CBS:
Have a tip we should know? tips@mediaite.com
Josh Feldman - Senior Editor