RNC Comm Director Gets In Heated Exchange With Dem Counterpart During MSNBC Fact-Check Segment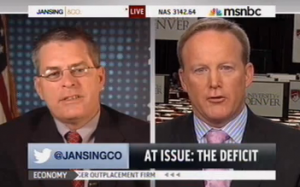 On Thursday morning, RNC Communications Director Sean Spicer clashed with his Democratic counterpart Brad Woodhouse during an MSNBC segment about fact-checking both candidates' debate claims about the deficit and tax cuts.
Host Chris Jansing began with the "style vs. substance" discussion, during which Woodhouse immediately responded that while Romney may have won with style last night, there was one big casualty: truth. If Romney was talking, he was lying, Woodhouse said, particularly noting his remarks about his tax plan and Medicare.
Spicer countered that in terms of both style and substance — "or any other measure" — Romney clearly was the better candidate. But style wasn't Obama's problem, he added, noting the president's "lacking of policy" and poor record.
The segment then got more specific, taking a closer look at the deficit. Woodhouse unsurprisingly disagreed with those who call Obama's $4 trillion deficit reduction plan a "gimmick," going on to attack Romney's lack of specifics.
As Spicer sought to respond, Woodhouse repeatedly interjected, with the two talking over each other. Spicer grew louder and less patient: "Hold on, Brad, quiet down. I actually am going to make a point that's factual here — you may want to take note."
That didn't stop Woodhouse from continuing to talk over whatever point Spicer sought to make. When Spicer finally made his argument, criticizing the president's deficit plan, and first-term spending, Woodhouse again began interjecting.
Jansing then cut in to steer the segment into another topic.
Take a look, via MSNBC:

Have a tip we should know? tips@mediaite.com