RNC Member Tears Into CNN Anchor Over Bannon, Accuses Her Of Reading DNC Talking Points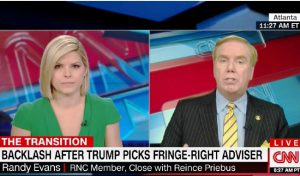 During a heated discussion on CNN this morning, anchor Kate Bolduan got into a tense back-and-forth with Republican National Committee member Randy Evans over President-elect Donald Trump's hiring of Breitbart's Steve Bannon as chief strategist.
Bringing on Evans and CNN reporter Manu Raju to talk about the news, Bolduan pressed Evans on Breitbart's history of provocative headlines and supposed alliance with the alt-right. When asked about how incoming Chief of Staff Reince Priebus has stated that he trusts Bannon and if he does as well, Evans said "absolutely" and said he wasn't surprised Democrats were critical of the hiring.
After Bolduan brought up some of the headlines from Breitbart, she asked Evans if he thought the majority of America agrees with this.
"No, I think what you are doing is you are reading from the talking points of the Democratic National Committee," Evans responded, leading to him getting cut off by Bolduan. "No, I'm absolutely not, no, he's the head of Breitbart News," Bolduan shot back.
Evans accused the CNN anchor of spending 15 minutes saying Trump is horrible and how he's going to fail. Bolduan hit back, saying that in her 24 minutes on air to that point she hadn't once said he had failed, leading Evans to claim that she had criticized Trump for softening.
They continued to battle for the next couple of minutes, with Bolduan stating Evans has no problem with Bannon and Evans saying that CNN needs to have more guests on to defend Trump and that she needs to be less biased.
Watch the exchange above, via CNN.
[image via screengrab]
–
Follow Justin Baragona on Twitter: @justinbaragona
Have a tip we should know? tips@mediaite.com