RNC Spokesman Turns Huckabee Debate Back on MSNBC Anchor: 'Your Own Network Has Problems'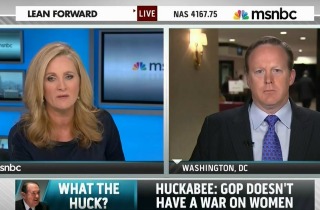 The comments of Fox News Channel personality and Arkansas Gov. Mike Huckabee at a Republican National Committee meeting on Thursday about Democrats degrading women by suggesting that their chief concern in life is free contraception coverage continue to stir debate. Appearing on MSNBC to discuss those controversial comments, RNC Spokesman Sean Spicer turned the tables on the network by reminding them that their personalities also make rhetorical missteps which get them and their network in trouble.

MSNBC anchor Alex Witt began by quoting an L.A. Times piece which accused Huckabee of "mansplaining" to women. Spicer said that Huckabee was making a point about how the Democrats "demean" women. He added that the RNC would not have "chosen" those exact words, but they agree with that point.
Witt pivoted briefly to the comments of New York Gov. Andrew Cuomo who said that those with conservative views are not welcome in the Empire State. Witt then added that Cuomo took "heat" for those remarks and asked if the RNC would hold Huckabee to a similar standard.
RELATED: Huckabee: Dems Think Women 'Can't Control Their Libido' Without Birth Control from 'Uncle Sugar'
Spicer said that there is more media attention devoted to Republicans who make artless comments than Democrats. "I would caution, frankly, all of the rhetoric is probably not helpful in general, but there is a bit of a one-sided battle when it comes to how Republicans are viewed in the media," he added.
Witt pressed Spicer again about whether the RNC should disavow Huckabee's comments. "You can probably look through almost every speech and find something somebody said that probably could have been worded differently," Spicer replied.
"Look at your own network, frankly, Alex," he added. "Martin Bashir, Alec Baldwin, Melissa Harris-Perry — this is not something held entirely to the Republican Party."
"Your own network has problems with communicating itself," Spicer concluded.
Witt protested that the network always holds those personalities "accountable" for their comments. "They are taking responsibility if you want to go after MSNBC," Witt said. "What are you going to do with Mike Huckabee and the rest of them?"
Spicer said once again that he would not have used those words and said that the GOP, not Democrats, hold their extremist elements accountable.
Watch the segment below, via MSNBC:
[Photo via screen grab ]
— —
> >Follow Noah Rothman (@NoahCRothman) on Twitter
Have a tip we should know? tips@mediaite.com