RNC Spox Battles MSNBC Anchor Over Whether Obama's Obamacare Fix Is Constitutional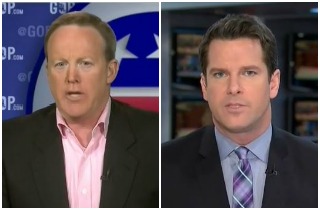 Shortly before President Barack Obama emerged on Thursday to announce an administrative fix to the Affordable Care Act designed to restore some of the health insurance plans which were cancelled as a result of the law's implementation, MSNBC anchor Thomas Roberts brawled with Republican National Committee Communications Director Sean Spicer over whether the president's proposal was even constitutional.

"This problem was created by President Obama," Spicer began. "I question frankly the motive of this. I think the entire intent of it is to help these 2014 Democrats who are concerned that this is going to cost them the election."
He then pivoted to the Constitution and asked where in the nation's founding document does the president have the authority to unilaterally amend the law. He said that the president does not have unilateral authority to delay mandates and exempt groups.
"When the president does it unilaterally, Democrats have no problem with that," he observed. "But when Republicans try to do it by votes on the floor, it's a, you know, 'How dare we do this law that was passed a few years ago,'"
"Sean, Republicans shut down the whole government over the ACA," Roberts observed.
"But we passed a bill that said we will delay this," Spicer shot back. "Now the president comes out when his own Democrats run for the hills and says, 'I'm going to do it unilateral,' and no one has a problem with that."
"But you did it by shutting down the government," Roberts reiterated. "Did the government shut down or not based on that principle?"
"If House Democrats had joined us," Spicer observed, "The government would have stayed open, we would have delayed Obamacare by a year, and we would have done it constitutionally and legislatively correctly."
Watch the clip below via MSNBC:
[Photo via screen grab ]
— —
> >Follow Noah Rothman (@NoahCRothman) on Twitter
Have a tip we should know? [email protected]