RNC Spox Challenges DNC Spox to Name One Winnable Candidate Besides Hillary; He Deflects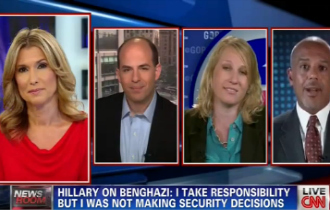 Tuesday morning on CNN, a bit of an interesting exchange occurred between RNC spokeswoman Kirsten Kukowski and DNC communications director Mo Elleithee. After the former gave her thoughts on Hillary Clinton's remarks to ABC News about Benghazi, she then challenged her Democratic counterpart to name a single big-D candidate who could conceivably win besides the former Secretary of State. In return, the DNC spox deflected.

"I can name ten Republican candidates who can win the White House in two years," Kukowski declared (Ed. note: We'd be interested to know who, exactly, those people are). "I think that what we've learned over the last couple of days with Hillary Clinton is [the Democrats] are all in on Hillary and I would wonder if Mo could actually name a couple other Democratic candidates who could win the presidency in two years."
In his response, Elleithee attempted to turn the question back around on Kukowski:
Well, look, I like the Democratic bench a whole lot more than the Republican bench and there are a number of potential candidates who I feel very confident we put them up head-to-head against any of the potential Republican candidates and will win. I think the very nature of Kirsten's question — while I get what she's trying to do — proves our point, which is that whenever there's a conversation about Benghazi, whenever there's a question about foreign policy, their initial instinct is to politicize it. That's what they're trying to do here.
The exchange ended there, as host Carol Costello jumped in to express her skepticism — "I will say that Clinton's Benghazi answer didn't resonate to me. Is it enough to say I'm not in charge of blueprints for security?" — and turned the panel's focus on that question.
Watch below, via CNN:
— —
>> Follow Andrew Kirell (@AndrewKirell) on Twitter
Have a tip we should know? [email protected]