RNC Spox Rips into CNN Host for Double Standard over Offensive Dem Comments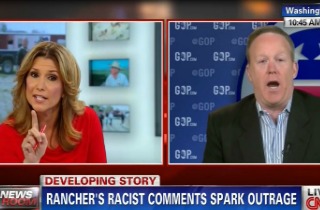 In a fiery segment on CNN on Friday, Republican National Committee spokesman Sean Spicer tore into CNN anchor Carol Costello and expressed his frustrations with the political press over what he viewed as a double standard regarding how they cover offensive comments made by conservatives and how they reflect on the Republican Party. He cited a series of examples of Democratic officeholders demonstrating insensitivity which he said did not illicit extensive coverage or analysis about how those offensive actions reflect poorly on their party.

Costello began by noting that "there are some who say" that Nevada rancher Cliven Bundy's racially insensitive comments reflect poorly on the Republican Party. Spicer said that Bundy's comments did not reflect on the GOP.
The RNC spokesman added that "every reporter calls the Republican National Committee calling for comment" when a conservative makes an insensitive comment. However, he added, "when similar incidents happen time and time again on the left, there is zero coverage." Spicer alleged that Democratic Illinois Gov. Pat Quinn recently made "anti-Semitic" and anti-African-American remarks, and that incident was barely covered in the political press.
The segment got heated at this point when Costello insisted she agreed and understood, but Spicer asserted that Costello did not.
RELATED: Scarborough: Conservative Bloggers Criticized Cliven Bundy Before GOP Politicians
"When conservatives rally around someone like Mr. Bundy without checking him out, that hurts African-Americans," Costello opined after playing a clip of a conservative black activist who expressed dismay over the Bundy incident. "They feel it."
Spicer insisted that the RNC has done a number of outreach initiatives and has hired a number of minority consultants to work both on the party's messaging and outreach. He went on to cite examples of instances when Democratic politicians appear to have been insensitive to minorities and women and the media did not imply that those instances reflected badly on their party.
Spicer and Costello battled over the GOP's ability to attract minority voters, prompting the RNC spokesman to insist that the press does not cover the GOP's minority outreach. "Seriously?" Costello asked.
"In terms of insensitivity, it's not a one-party monopoly on this," Spicer insisted. "And, unfortunately, it gets zero — zero — play in the media."
"The Democratic Party does not have the problem in attracting minorities," Costello said to conservative columnist Ron Christie. "And when these kinds of things happen, and the Republican Party is trying to attract minorities, they matter because they resonate."
Watch the clip below, via CNN:
[screengrab]
— —
>> Follow Noah Rothman (@NoahCRothman) on Twitter
Have a tip we should know? tips@mediaite.com