RNC's Priebus Defends NBC/CNN Threat: Why Would We Ever Work With Pro-Clinton Propagandists?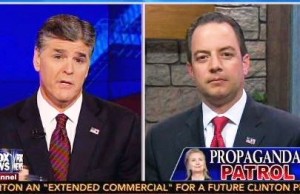 RNC Chairman Reince Priebus joined Sean Hannity Monday night to defend his threat to NBC and CNN that if they do not halt production on the Hillary Clinton films they're working on, they will refuse to partner with either network in 2016 presidential election debates. Hannity agreed with Priebus that it will probably be a "love letter to Hillary," while Priebus maintained the GOP needs a better handle on finding friendly outlets and moderators to team up with.
RELATED: RNC Warning to CNN And NBC Over Hillary Clinton Films Sounds A Lot Like An Empty Threat
Priebus slammed both networks for spending millions of dollars telling the story of someone who is very likely going to run for president in 2016. He accused CNN and NBC of "being in the business of promoting the Democratic party," saying he's tired of working with people "spending time and money" backing the Democrats.
He considered it a "very reasonable" proposal that the Republican party would want to "filter who actually deposes our candidate," acknowledging that in 2012, there were too many debates that the GOP should have exerted more control over, as well as "moderators who are in the business of making news at the expense of our candidates."
Priebus told Hannity he wants the GOP to "control the referees that we're bringing into our playground," and questioned why if the Hillary Clinton films are so non-partisan and not a big deal, the networks don't just release them after 2016.
Watch the video below, via Fox News:
—–
Follow Josh Feldman on Twitter: @feldmaniac
Have a tip we should know? tips@mediaite.com
Josh Feldman - Senior Editor