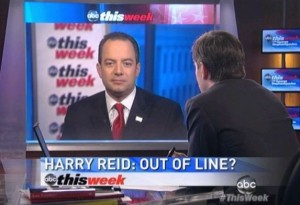 RNC Chairman Reince Priebus ripped into Senate Harry Reid on ABC's This Week today for his continued assertion that a credible source told him that Mitt Romney hasn't paid taxes in ten years. Before George Stephanopoulos could ask Priebus about Reid, Priebus jumped the gun, saying he didn't want to dwell on Reid's comments, but did refer to the Democratic senator as a "dirty liar."
RELATED: CNN Panelists Clash Over Reid's Claim That Romney Hasn't Paid Taxes In Ten Years
Priebus first went after President Obama over the unemployment rate and his overall record on the economy before preemptively tearing into Reid.
"I'm not going to respond to a dirty liar who hasn't fired a single page of tax returns himself, complains about people with money but lives in the Ritz Carlton here down the street… this is just a made-up issue."
Stephanopoulos pressed him on the "dirty liar" charge, and Priebus did not back away from it. Priebus went back to criticizing the president and suggested it was him who "trot[ted] out Harry Reid" to distract from the important issues with "division and hatred." Stephanopoulos noted that many prominent Republicans and conservatives have said Romney should release his tax returns, asking Priebus if finally releasing them would end all the questions.
Instead of addressing the tax returns, Priebus argued that Obama wants to destroy the American Dream, sharing a personal anecdote to make a point about how people in the United States appreciate success. He said that Obama's entire philosophy of government can be summed up with Solyndra.
Watch the video below, courtesy of ABC:
Have a tip we should know? tips@mediaite.com
Josh Feldman - Senior Editor