RNC's Reince Priebus Tears Into Obama: 'Most Divisive, Nasty, Negative Campaigner' In U.S. History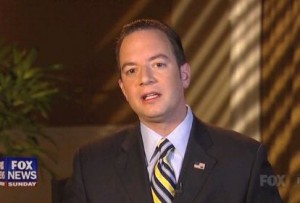 RNC Chairman Reince Priebus sat down on Fox News Sunday and for ten whole minutes, he minced no words in going after President Obama and the Democrats for the sluggish economy. He said the president "isn't living on planet Earth," repeatedly criticized the last four years as a "misery," and called Obama "the most divisive, nasty, negative campaigner" in the nation's history.
RELATED: Reince Priebus Tells Soledad O'Brien 'Santorum Is Right' To Not Care About Unemployment Rate
Rebutting his Democratic counterpart, Debbie Wasserman-Schultz, who appeared right before him, Priebus argued that the country is absolutely not better off than it was four years ago. He said that Obama "can't fulfill a promise" and accused the Democrats of "living in Fantasyland," declaring that the best way to help stimulate the economy in the long-run is firing Obama and hiring Mitt Romney in November.
When guest host John Roberts asked Priebus if Romney can effectively run on the weak jobs numbers that came out on Friday, Priebus added that the number is actually worse because, as he claimed, 30 percent of the jobs added were just temporary employment. He ripped into the Democrats for pushing a class warfare mentality.
"All of this stuff is small ball that they're playing, all of this nastiness and division about investments and money and rich vs. poor. This is going to come down to how people feel in November, how people feel about this president. Did he fulfill the mission he promised this country?"
Priebus declared, "For the sake of the very idea of America, Mitt Romney has to win for liberty and freedom."
Roberts brought up a recent poll showing Obama has an advantage in key battleground states over the question of which candidate can be better trusted to fix the economy. Priebus dismissed it as one poll of many, and said other polls have shown the exact opposite. He said that when Obama holds campaign events and asks people if they're satisfied with the way things are going, to which the answer is most likely "no," Obama is "acting as if he's not the president."
A strong opposition to the president is one thing, but Roberts asked Priebus exactly how strongly the Republicans plan on mobilizing behind Romney, and if their focus is going to be less on a positive pro-Romney message and more on a negative campaign against the president. Priebus then slammed Obama for running a campaign more negative than anything this country has ever seen.
"This president has already shown that he's not who he said he was. He claimed he was going to bring everyone together, he was going to be this uniter. He's been the most divisive, nasty, negative campaigner this country's ever seen without running any positive ads."
And as for negative campaigning on the Romney side, Priebus argued that some of Romney's first official campaign ads were about what he would do on Day One of his presidency.
RELATED: RNC's Reince Priebus: Obama Using Romney's Tax Returns As 'Shiny Object' To Distract From Real Issues
To close out the segment, Priebus reacted to a recent Obama attack ad against Romney for outsourcing, and Roberts asked the chairman if he thinks the Romney campaign needs to have more effective responses to those kind of attacks in the future. Priebus said the fact that the factual accuracy of the ad has been shot down by multiple organizations should be enough to dismiss it outright.
Watch the video below, courtesy of Fox News:
Have a tip we should know? tips@mediaite.com
Josh Feldman - Senior Editor