Rob Portman 'Family Friend' Ken Blackwell Compares Gay Marriage To Polygamy, Incest On CNN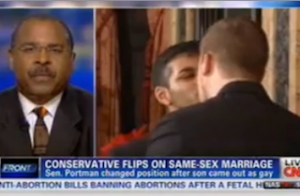 Friday evening on CNN, Erin Burnett covered the news that Sen. Rob Portman (R-OH) has come out in favor of same-sex marriage since he discovered that his son is gay. During the segment, Portman's "family friend" Ken Blackwell condemned gay marriage as a "slippery slope" to polygamy and incest.


Burnett began by playing a clip of Portman's interview on the matter that aired this morning on CNN, along with some dismissive comments by former GOP presidential candidate Rick Santorum at CPAC today.
Burnett then invited Blackwell, the former Cincinnati mayor and Ohio secretary of state, to give his take on his friend's decision. Blackwell immediately expressed his discomfort with Portman's new position on same-sex marriage, saying that "one family's decision should not undercut the states' rights across this country to determine that marriage is a union between one man and one woman."
National Review columnist Reihan Salam was on hand to represent the more open-minded wing of the Republican Party, arguing that conservatives should be encouraging marriage regardless of sexual preference. "If conservatives want to talk about the importance of strong, stable marriages, by opposing same-sex marriage, you're alienating a lot of the young people who could be allies in making the case we need to revitalize a marriage culture in this country and we need strong, stable marriages."
The real bombshell of the segment came when Burnett brought the discussion back to Blackwell, asking him why conservatives like him typically want the government to stay out of their personal business, except when it comes to social issues like marriage.
Blackwell put forward a strong condemnation of this idea, saying that "making a decision based purely on love is putting us down a slippery slope. What about the person who loves two women and wants to engage in polygamy?" he asked. "If two siblings love one another and it's in their economic interest to marry, what stops it?" What will Blackwell's "family friend" think about those statements?
Watch video below, via CNN:
—
>> Follow Matt Wilstein (@TheMattWilstein) on Twitter
Have a tip we should know? [email protected]