De Niro To Trump: Don't Say Things Unless You Can Back It Up, 'How Dare You'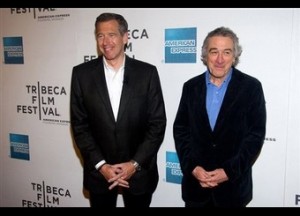 Last night at the Tribeca Film Festival in New York City, Robert De Niro sat down for an interview with NBC's Brian Williams and shared his opinion about today's politics. De Niro didn't approve of Republican tactics during budget negotiations, but a bit more interesting, was the fact that the Oscar winner is now joining a growing list of celebrities who are lashing out at Donald Trump.
Speaking about the potential government shutdown, De Niro was quoted according to Movieline saying:
"How did we get to this point? . . . This is crazy. And I know Obama was trying to bridge the gap. His intentions are really good. Maybe some things are not as good as we all would like, but his intentions were right. A lot of these guys, they're intentions are not even good. They're just playing the game. And they're playing with people's lives."
However, when talk turned to Trump, De Niro got even more pointed with his comments. At first De Niro tried to avoid making his comments specific, suggesting any potential political candidate "get the facts before you start saying things about people." However, when Williams pressed whether De Niro was talking about Trump, De Niro confirmed and stated:
"It's like a big hustle. It's like being a car salesman. Don't go out there and say things unless you can back them up. How dare you? That's awful to do. To just go out and speak and say these terrible things? Unless you just wanna get over and get the job. It's crazy."
If Trump keeps angering celebrities like this, then if he decides for some reason not to run for President, there might be no one left willing to do another season of Celebrity Apprentice!
Have a tip we should know? tips@mediaite.com