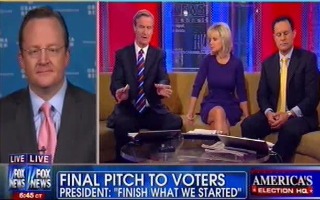 Former White House Press Secretary Robert Gibbs appeared on Fox News Channel on Tuesday where he engaged in a polite but awkward interview with the hosts of Fox & Friends.
"They've got two names: Mitt Romney, a guy who was a successful business man, saved the Olympics, was a governor, stuff like that. Or, Barack Obama who a majority of Americans voted for last time," Steve Doocy began. "Your boss had promised hope and change and a lot of stuff and he didn't deliver."
Gibbs laughed at the question. "I'm still laughing I guess at – I think you attributed only positive stuff to Mitt Romney and then you said Barack Obama didn't get anything done," Gibbs replied.
"I was just bringing up the things Mitt Romney brings to the table," Doocy replied.
Gibbs shot back that there were a number of things that voters in states like Ohio see other things that Mitt Romney brings to the table in a negative light, like his work with Bain Capital.
Gretchen Carlson hammered Gibbs on the state of the nation's finances after four years of Obama's presidency, reading off a list of statistics that show a decline in the state of the national economy.
"We inherited a tremendous mess," Gibbs replied. "Every one of those statistics has gotten better in the past couple of years because, look, we fell into a huge and massive hole in this economy."
Brian Kilmeade said that he had spoken with Sen. John McCain who confided that he knew on election day in 2008 that he was going to lose. Kilmeade asked Gibbs what he thought it meant that today's election is truly a tossup and few are certain of the outcome. "Is the fact that it's even this close disappointing to you and others," Kilmeade asked.
"No," Gibbs replied. "I think people forget that, four years ago, even though you said John McCain knew he was going to lose, Barack Obama got 53 percent of the vote. That means he didn't get 47 percent of the vote that day. That's a pretty closely divided election."
He concluded saying that he felt good about Obama's chances tonight and said that every battleground state could be won by the president.
Watch the clip below via Fox News Channel:
> >Follow Noah Rothman (@Noah_C_Rothman) on Twitter
Have a tip we should know? tips@mediaite.com