Robert Gibbs on Sarah Palin: Don't Need A License To Get On TV And Say Anything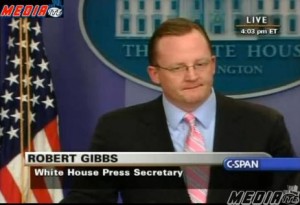 Over the weekend, former Governor Sarah Palin and Press Secretary Robert Gibbs engaged in some TV news back-and-forth over the BP Oil Spill, with Palin "wondering," on Fox News, whether campaign contributions played a part in "President Obama taking so doggone long to get in there."
Gibbs responded that Palin needs to become "more informed." As Palin is at least the third Fox News personality to theorize that the administration was nefariously slow to act, I asked Gibbs if a lack of information is really the problem here.

Previously, Fox News personalities like Dana Perino and Eric Bolling, along with guest Michael Brown, have floated theories that the Obama administration was slow to act on the spill, or may have even caused it, in order to gain politically.
Gibbs responded by pointing out that, while you need a license to drive a car, you don't need one to pop off on TV. I'm paraphrasing, of course. Here's the clip:
There are many legitimate criticisms to be made of the Obama administration's response to the BP Oil Spill, but to suggest that campaign contributions played a part is an irresponsible suggestion to make without something to back it up. BP's contributions to Obama over the course of two campaigns represent about a thousandth of what Obama raised during the Presidential campaign alone.
Meanwhile, Gibbs' joking response, about licensing TV pundits, is sure to inspire many an unhinged blog post about infringing freedom of speech.
Have a tip we should know? tips@mediaite.com