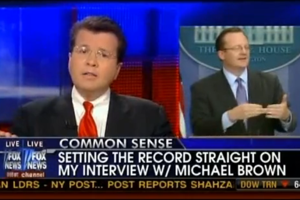 On Tuesday, Robert Gibbs chastised Fox News' Wendell Goler for an appearance by former FEMA Director Michael Brown in which Gibbs said he alleged sabotage by the administration in the Gulf Oil Spill. Your World host Neil Cavuto then challenged Gibbs to come on the show to correct the record, as Brown had merely said the administration deliberately let the spill worsen to advance policy goals.
Today, I asked Gibbs to respond to Cavuto's invitation, and he did correct the record. There were two loony Bush figures on Fox that day.
Gibbs replied that he was thinking of a different Fox News show, Fox & Friends, on which the allegation of sabotage was made:
Transcript:
Tommy Christopher: Yes, one more. The Neil Cavuto thing — notwithstanding, again, the fact that what Michael Brown said was only slightly less crazy than what you said he said —

MR. GIBBS: Yes, I will say this — can I say this to Neil? I was — I apparently had the wrong FOX show. There were two references on "FOX & Friends" to the deliberate nature of the spill being set. Sometimes —

Tommy Christopher: That wasn't Brown, it was somebody else?

MR. GIBBS: Yes. Sometimes I get it all mixed up.
Here's the clip from Fox & Friends, in which former Bush Press Secretary Dana Perino launches the sabotage theory, and "Happy Hour" host Eric Bolling puts a cherry on top:

Although Perino doesn't actually say it was the Obama administration that committed the sabotage, her extension of the theory is that they let the spill worsen, just like Brown.
While Gibbs did make a mistake when he described Brown's appearance on Your World, this might actually end up benefiting him, as he ends up getting two shots at Fox for the price of one.
Have a tip we should know? tips@mediaite.com