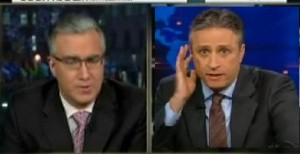 Daily Show host Jon Stewart has taken to doing impressions of President Obama as George W. Bush, and Countdown host Keith Olbermann tore into the President's speech like a plate of babyback ribs, so at yesterday's White House briefing, I asked Press Secretary Robert Gibbs whether the White House is concerned that they're losing two very influential media allies. His sharply delivered "No" elicited some laughter, but before moving on to the next question, Gibbs couldn't resist elaborating.
Transcript:
Tommy Christopher: Jon Stewart last week and this week has been very critical of the President.  Keith Olbermann last night really badly trashed the President's speech.  Is the President or the White House concerned at all about losing two such influential allies in the media?

MR. GIBBS:  No.  No.  Ken.

Ken Bazinet:   Robert, this is non-BP —

MR. GIBBS:  I will say this — can I say this?  I've said this before; I'll reiterate it — if the President had decided to run for President based on what the pundits were saying in December of 2006 and January of 2007, he'd be in the Senate.

Tommy Christopher:   But these are two…

MR. GIBBS:  No, no, hold on.  I appreciate the pulse — the hand on the pulse of America by those that live on cable TV.  I don't actually think that's where all of real America lives.
Since then, Keith Olbermann has made it clear that the President hasn't lost him, that he still lurves Obama, but he reserves the right to trash his speeches with the heat of a thousand Palins. Fair enough, but it would be nice if he could try to make more sense than Palin.
That leaves Stewart. Lyndon Johnson once famously remarked "If I've lost Cronkite, I've lost Middle America." In today's fragmented media landscape, there isn't a monolithic figure that's comparable to Walter Cronkite, but Jon Stewart has repeatedly been anointed with the "Most Trusted Man in America" title that was invented for Cronkite. Unlike Olbermann, whose viewers likely already have strong opinions, Jon Stewart's influence reaches past the political left and out into the popular culture at large.
In that way, "losing" Jon Stewart is more significant, but it also indicates that President Obama has, in a sense, "arrived." During the presidential campaign, and well into his first term, the late night comedy world grappled with how to spin comedy gold out of Obama's cool, efficient persona. Now, it seems he's just one of the guys.
The real test will be whether the pendulum ever swings back, or if, like President George W. Bush, Obama serves out his term as Stewart's Punchline in Chief.
Have a tip we should know? tips@mediaite.com