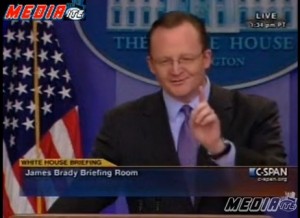 At today's White House briefing, Press Secretary Robert Gibbs laid into Fox News correspondent Wendell Goler, taking the network to task for an appearance by Michael Brown (of "Heckuva Job, Brownie" fame) in which he suggested that the Obama administration deliberately let the Gulf Oil Spill worsen in order to influence energy policy. Gibbs even suggested that Goler "call headquarters, my friend," and find out whose decision it was to put Brown on the air.
In fact, Gibbs took Brown's accusation a step further than the former FEMA Director actually went. Gibbs says that Brown accused the administration of causing the leak for political gain. Brown's almost equally loony contention was that the administration simply let the leak worsen for political gain, and swooped in too late, when it was already out of hand. Now, where would Brown ever get an idea like that?
Gibbs criticized Fox for "not push(ing) back too hard," and for "having someone like that" on the air. Of course, if Brown is willing to show his face, any network would be crazy not to put him on, especially with the popularity of the false "Obama's Katrina" narrative. In later remarks, Gibbs seems to narrow his criticism to not prepping the interview adequately.

Here is the clip to which Gibbs was referring. Cavuto doesn't seem at all surprised by Brown's assertion, and doesn't follow up (or "push back") at all, and even seems to lead Brown a little at the end, asking if calling this the "BP spill" is part of the strategy.

Have a tip we should know? tips@mediaite.com