Robert Gibbs Tells Morning Joe Why He Doesn't Read Maureen Dowd: 'Same Column' For 'Last 8 Years'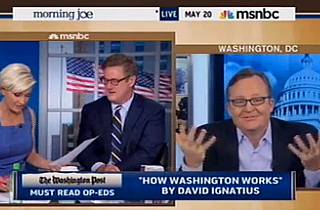 New York Times columnist Maureen Dowd is out with her latest patented concern-trolling column about how once-favorite nephew Barack Obama is now a big disappointment to her, and isn't living up to the stories she watches on the TV. Former White House Press Secretary Robert Gibbs isn't trying to hear it. On Monday morning's Morning Joe, Gibbs told co-hosts Joe Scarborough and Mika Brzezinski that he doesn't read MoDo, "largely because it's sort of largely the same column for the last, like, eight years."
Mika Brzezinski began by introducing MoDo as a "Must read op-ed," asking Gibbs, a former close adviser to the President and now an MSNBC contributor, "Did you see Maureen Dowd, Robert Gibbs, yesterday?"
"I don't normally read Maureen," a smiling Gibbs responded.
Despite the hosts' protest, Robert added, "I don't, largely because it's sort of largely the same column for the last, like, eight years. "
As Mika looked for "the best part" to read aloud, Gibbs sarcastically asked "What did she say? Don't tell me. Let me guess."
Brzezinski settled on this passage as the best Dowd had to offer:
The onetime messiah seems like a sad sack, trying to bounce back from a blistering array of sins that are not even his fault. He went to Baltimore on Friday to talk about jobs. But no one was listening. Everybody in the country who hates the I.R.S. — so, then, everybody — was listening to the lugubrious acting I.R.S. commissioner who had been ousted, Steven Miller, tell a House committee that he didn't know who was to blame for the scheme to unfairly scrutinize conservative groups with words like "Tea Party" and "Patriot" in their titles.
Scarborough then identified the "money line" in Dowd's column as "Hillary Clinton eats scandals for breakfast," which was actually a line that Dowd quoted from Bill Maher.
"So, is that the same Maureen Dowd column you've been reading for eight years?" Scarborough asked.
"More or less, yes," Gibbs replied.
Dowd, you might recall, was the subject of some blistering commentary by President Obama, at this year's White House Correspondent's Dinner, over the columnist's confusion of reality with entertainment. She's pulled off that trick in reverse in this column, claiming that "everybody in the country" was watching the ousted IRS commissioner testify on C-Span, when most of the country actually pays attention to the pop-culture silliness that Dowd introduces her column with:
I WENT to New York last week to cover the TV presentations for the new season, shows like "Scandal," "Shark Tank" and a faltering "American Idol."

I may as well have stayed here.

You know that the faltering American idol in the White House must be reeling in this scandalous spring. No Drama Obama is immersed in drama so over the top it could have been scripted by Shonda Rhimes and Karl Rove.
She later observes that the President "considers himself a serious person stuck in an unserious time," and you have to wonder where he ever got an idea like that.
Have a tip we should know? tips@mediaite.com