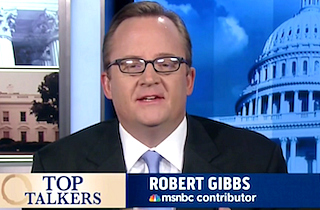 Former White House Press Secretary Robert Gibbs told MSNBC's Morning Joe that he didn't recall the exact discussions that led to President Barack Obama's pledge that "if you like your insurance, you can keep it," but that it was "certainly" wrong to have said so. Gibbs is the second Obama administration official to have been asked about his input to the promise, after David Axelrod was interrogated on Meet the Press yesterday.
"You were there," host Mika Brzezinski said. "How could the president say—when you know that 5% of the people, and 5% is obviously a small part of the story and overall the impact, if you believe in this law, is better than what happens here, but it's millions of people, you know what's going to happen in the press, you know there's going to be hardships for those people—why would you let your president say that?"
"I don't recall significant discussions around some of the verbiage on this to be 100%," Gibbs said.
RELATED: NY Times Editorial: Obama 'Misspoke' When He Said You Can Keep Insurance Policy
"But do you agree it was a wrong move?" Brzezisnki asked.
"Certainly," Gibbs replied. "I don't think anybody dealing with this today finds what was said—I do think some explanation in terms of the fact that policies that were in place at the point in which the president signed them were grandfathered in for this. Insurance companies have then changed those policies and they're not in the grandfathered set of insurance policies. So, there certainly is some insurance company discussion that has to be had here as to why so many of these policies on the individual market changed so quickly."
"But again, I do think you will have an understanding—and this is why the website is so important, and why it has to get fixed sooner rather than later—and that is, so many people in this individual market will find a better policy at a better price. They can't see that right now because the website is down."
Watch the full clip below, via MSNBC:
[Image via screengrab]
——
>> Follow Evan McMurry (@evanmcmurry) on Twitter
Have a tip we should know? tips@mediaite.com