Pastor Jeffress To Maher: 'It's Been Conservatives Who Have Been After Me With A Meat Cleaver'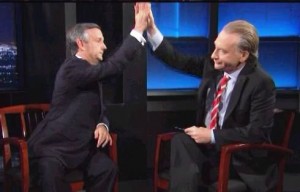 The first guest on Real Time with Bill Maher tonight was none other than Pastor Robert Jeffress, who caught a lot of flack after telling reporters at the Values Voters Summit that Mormonism is a "cult" and shared his reservations about voting for Mitt Romney. On Real Time, Jeffress sat down for a surprisingly cordial interview with Maher, which addressed not just Jeffress' comments, but also Maher's personal religious skepticism.
The interview began with Maher giving Jeffress a copy of his 2008 documentary Religulous, and as an immediate sign this was going to be a unique interview, Maher began by quipping that they have common ground on their hatred of Catholics. Jeffress denied hating Catholics, saying he has many Catholic friends, but did admit he have a few problems with the faith.
RELATED: Rick Perry: I'm Not Going To Tell Pastor Robert Jeffress What He Can Or Can't Say
Throughout the interview, Maher touched upon the familiar theme of religious morality, and debated Jeffress over whether faith is more important than good works. Maher labeled religion as a "suspension of critical thinking," while Jeffress argued that you don't need to give up your intellectual curiosity to be a religious person.
Then Maher asked Jeffress to defend his anti-Mormon comments, and Jeffress argued that his comments were not out-of-the-mainstream in their views.
People are trying to make me to be the Jeremiah Wright of the right for saying that, but the fact is Mormonism has never been a part of historical Christianity. It's never been considered by that… They have their own set of doctrines, they have their own book of revelation, they came 1800 years after the church. I think Mormons are good, moral people but they're not part of Christianity. But what's been interesting… is since I made those comments, the left has been pretty kind to me. It's been the conservatives who have been after me with a meat cleaver.
RELATED: GOP Debate: Jon Huntsman Calls Out Rick Perry Over Mitt Romney Mormon Controversy
That statement provoked Maher to give Jeffress a high-five. Whatever you think of Jeffress, his support of Rick Perry, or his comments on Mormonism, you have to give him credit for appearing on the show. And the most remarkable thing about the interview was how cordial it was.
Watch the video below, courtesy of HBO:
Have a tip we should know? tips@mediaite.com
Josh Feldman - Senior Editor