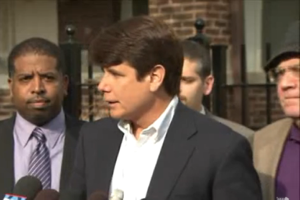 For those lamenting former Illinois governor Rod Blagojevich's expulsion from Celebrity Apprentice, fear not: it did not mean expulsion from the limelight. Blagojevich held a press conference yesterday in anticipation of his criminal trial, but he was no longer the poet son of Kipling of 2008. This new Blago was all macho— defending his wife's honor and challenging U.S. Attorney Patrick Fitzgerald to be "man enough" to meet him in court.
Standing in the outdoors surrounded by a small number of unidentified supporters, Blago used this press conference to send a message to jurors that he's not taking these accusations lying down. In an aggressive statement against Fitzgerald and the government agents that arrested him back in December 2008 for attempting to sell then-President-elect Barack Obama's Senate seat, Blagojevich blasted those who took him for guilty, called those who accused his wife Patti of wrongdoing "cowards and liars,"and challenged Fitzgerald to, once again, to "play all the tapes."
While he has insinuated this many before, Blagojevich was finally ready yesterday to come out and accuse a great number of people in Illinois government of conspiring illegally against him:
"There's a smoking gun out there. The smoking gun is that the government is covering up the big lie Mr. Fitzgerald gave to the world when he had me arrested on December 9th, and he told the whole world that he heard the tapes and he heard telephone conversations and he had to arrest a sitting governor because he had to 'stop a crime spree before it happened.' That is a lie, and the reason they won't play all those tapes is that they are covering up that big lie that forseeably [sic] led to a chain of events that stole a governor from the people of Illinois and undid the will of the people."
If this wasn't true, Blagojevich concluded, Fitzgerald had better be "man enough" to meet him in court. He says this with the menace of an adolescent picking a 3:00 fight in high school, but he sounds as serious about his innocence as ever. Blagojevich's script has not changed at all since the day he got arrested—which, given it has been two years and the man is accused of some of the most heinous corruption in American history, is pretty remarkable. What has changed is his tone. He has gone from outraged to resigned to resolute and back again, beginning the cycle one again with a breath of fresh indignation.
Watch the press conference below:

Have a tip we should know? tips@mediaite.com