Rod Blagojevich Thanks Jury, Comes Out Swinging Against Prosecution In Post-Verdict Speech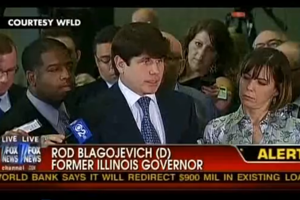 Oh Blago, what will we do with ourselves if you go away to jail? After receiving the relatively positive message that he was found guilty of only one of 23 counts of various types of corruption, former Illinois governor Rod Blagojevich gave a barn-burner of a speech in front of the press with the kind of vigor we haven't seen in months– complete with headstrong pleas of innocence graphic images of children shot in the streets (but sadly no poetry).
After giving a round of thank yous — even to the jury!– Blagojevich slammed the "persecution" against him and his family and noted that the fact that 23 of the 24 counts were still unresolved helped prove his innocence:
"This jury just shows you that despite the fact that the government threw everything but the kitchen sink at me, on every count except for one, they could not prove that I did anything wrong, that I didn't break any laws except for one nebulous charge from five years ago– a conversation that I had with the FBI where the FBI refused to allow me to have a court reporter in the room. I want the people of Illinois to know that I did not lie to the FBI. This is a persecution."
Then, in classic Blago form, he began a dramatic harangue about children being shot in the streets of Illinois and other similar disasters that he would have circumvented had he only been allowed to serve his full term. Watching him, it's difficult to see how the jury's hesitation to convict could come from any other source stronger than his entertainment value.
Watch the full speech (via Fox News) below:

Have a tip we should know? tips@mediaite.com