Roger Ailes Biographer Dishes To GMA On Fox Chief's 'Star-Making' Powers And 'Revolutionary' Cable News Vision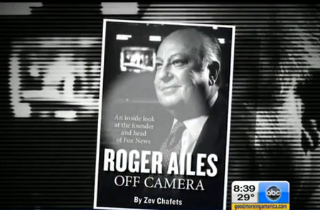 The author of a new Roger Ailes biography sat down this morning with Good Morning America to discuss a few tidbits of what he learned from his interviews with the Fox News chief, praising him as a "winner" in the cable news wars and a "star-maker" for his work in creating various television personalities.

In a pre-taped conversation, Roger Ailes: Off Camera author Zev Chafets dished to GMA correspondent Bianna Golodryga about some of the more controversial aspects of the book:
On Ailes calling Newt Gingrich a "prick": "He likes to, as he says, stir up the — something else I can't say on the air."
On the Fox chief blasting Obama as "lazy" and calling VP Joe Biden "dumb as an ashtray": "That's how he talks. I mean, Roger is very straight-forward.
On Ailes' ability to create popular TV personalities: "He is a star-maker. [Bill] O'Reilly came from a not-super-distinguished career at the networks. Sean Hannity was in Atlanta, on the radio. [Ailes] tutored them on how to appear on TV, and he produced a network out of it."
On how the Fox News president "revolutionized cable television": "CNN would say, 'We want the star of the network to be the news,' and Ailes' point-of-view was, 'I want the stars of the network to be the stars.'"
And on how history will view Ailes: "History is written by the winners. I think that Roger has been a winner in the battle to establish a credible conservative TV network."
Watch below, via ABC:
— —
>> Follow Andrew Kirell (@AndrewKirell) on Twitter
Have a tip we should know? tips@mediaite.com