Roger Ailes Jokes: Rupert Murdoch Launched 'Billion Dollar' FNC Because 'Ted Turner Insulted Him'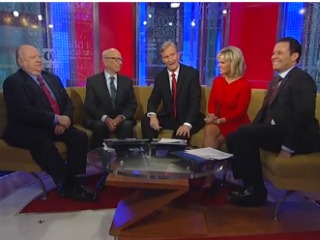 Fox News president Roger Ailes and News Corp chairman and CEO Rupert Murdoch stopped by the set of Fox and Friends to look back on the network's success.
The segment kicked off with the negative criticism and pessimistic predictions surrounding the network upon its launch — a stark contrast to the ratings success and pop culture impact it's had over the past decade and a half. In a very sweet touch, the hosts of Fox and Friends offered a round of applause to the people who have stuck with the network since its inception, often quietly behind the scenes. Murdoch and Ailes were then introduced as "a couple of guys who knew we'd have cake."
I just had a hunch that, you know, there was room for another point of view and another service. And I don't like monopolies when I see them, so.
"Unless you own 'em!" interjected Ailes, who later described Fox News' beginnings thusly:
…I think Ted Turner insulted him, and so he decided to create a billion dollar company as an answer.
On a more serious note, Ailes related how, before the network launched, he would talk to people about the news as he traveled across the states, and that every "desk clerk and cab driver" he spoke with issues the same refrain: They felt they were only being offered headlines from one perspective. He shared that, quite surprisingly, he doesn't think he and Murdoch ever drafted an official business plan together, but that Ailes knew that, if be messed, he'd pretty much be dead meat.
And then: Time for cake! A cake that, as someone remarked (Ailes? My money is on Ailes.), didn't "look very tasty."
Have a look at the segment, from Fox News via Fox News Insider:
h/t Fox News Insider
Have a tip we should know? tips@mediaite.com