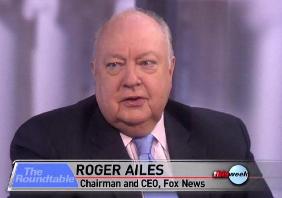 Fox News CEO Roger Ailes stopped by the D.C. bureau for an impromptu visit as he was in town for tonight's Radio Television Correspondents Association Dinner.
Sources tell Mediaite he talked about the success of the bureau and the network as a whole – but also addressed the recent Washington Post Glenn Beck profile.
Sources present at the time tell us that Ailes said he was "very proud of this bureau" and "they used to come to us after the news event…now they come to us for the news event as well…I really just want to congratulate you and thank you for that." He also noted the news department continues to expand.
But after giving his congratulations, he addressed the Glenn Beck story, talking to a bureau in the same city as the anonymously-sourced newspaper article. "For the first time in our 14 years we've had people apparently shooting in the tent from within the tent…taking an offhand comment and turning this into a major war," said Ailes to the newsroom. ""We prefer people in the tent not dumping on other people in the tent."
Ailes touched on freedom of speech while he noted Beck's show is "his opinion, it's not the opinion of Fox News" and said: "News is very expensive to do…it's a business, I have to run a business; as well as a news-disseminating business."
And while he didn't single anyone out in particular, he seemed to imply the anti-Beck sentiment in the Kurtz column may have come from D.C. "Defend the family if you can, if you really have a problem go to your supervisor…you have outs," he told the newsroom. "There are no locks on the outside of our doors."
—–
» Follow Steve Krakauer on Twitter
Have a tip we should know? tips@mediaite.com