Roger Ailes Unfairly Painted As Sexist For Saying He Hired Sarah Palin For Being 'Hot'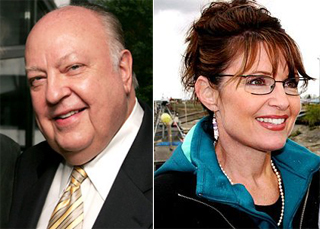 Amongst the hoopla surrounding Fox News' 15th anniversary, Frazier Moore of the Associated Press has done an interview with Roger Ailes. And, while those are always super fun, one comment in particular is already raising some eyebrows. In the article, Ailes combats the idea that the network is biased. His proof; the reason he hired Sarah Palin isn't her views, it's that she's "hot."
Huh.
Here's the quote in question:
"From the start, Ailes has steadfastly denied any such political bias or agenda on the part of his network. Politics, schmolitics: 'I hired Sarah Palin because she was hot and got ratings,' he declares.

From the get-go, he meant for his network to counteract the sins he saw others committing: "I really believed there was no fairness or balance" elsewhere on the journalism landscape.

And they struck back."
Already some are questioning the comment. Over on the Huffington Post they've headlined their reprint of the AP article as "Fox News Chief Reveals Crude Reason He Hired Sarah Palin" and the story is beginning to go viral, especially on left-leaning websites. And this isn't the first time Ailes had discussed his fondness for hiring good looking ladies. In the lengthy profile Esquire did last January, a big portion was dedicated to Ailes' criteria for anchor women including quotes where he critiqued the fashion sense of the women on HLN.
It also isn't the first questionable thing involving Ailes and Palin in an interview. In a profile last May, an allegation was raised that Ailes thought the former Governor was "an idiot." This caused a bit of an uproar and was quickly and vehemently denied by those at Fox News. However, we can imagine that critics of either Ailes and Palin will be quick to see this latest quote as proof the earlier was true.
Of course, it should be noted that it's quite possible Ailes merely meant "hot" in TV terms. Like, "Hey, Two and a Half Men is hot." That's not a referendum on the physical attractiveness of Jon Cryer but rather a reference to the fact that about a billion people decided they needed to see how that show would work without Charlie Sheen. Entertainment Weekly's "Hot List" was never just a list of attractive and good-looking people.
The media interpretation of the word "hot" seems to also gel well with the context and his reference to "good ratings." It's TV talk.
But, seriously. Lets be honest. Even if Ailes really meant "hot" as in physically attractive, is it really groundbreaking news that a television president sees a benefit in putting pretty women in front of the camera?
Have a tip we should know? tips@mediaite.com