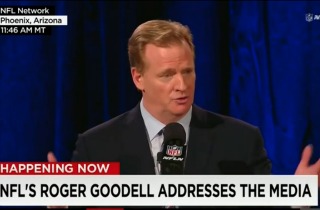 At his pre-Super Bowl press conference, NFL Commissioner Roger Goodell said Seattle Seahawks running back Marshawn Lynch has an "obligation" to speak to the media because it is part of his job and "comes with the territory." Earlier this week, at his Super Bowl media day press conference, Lynch — known for his hostile relationship with the press — responded to every question with, "I'm here so I won't get fined."
"I've been very clear that when you're in the NFL you have an obligation — an obligation to the fans," Goodell said. "It is part of your job and there are things that we all have to do in our jobs that we may not necessarily want to do. I think Marshawn understands the importance of the Super Bowl, the importance of his appearance, and the importance of him as an individual in this game."
For those reasons, Goodell said, fans are "curious" about the various storylines surrounding the Super Bowl, and members of the media want to clearly portray them.
"I understand it may not be on the top of his list, but everyone else is cooperating and everyone else is doing their part, because it is our obligation," he added. "It comes with the territory and it comes with the privilege of playing in the Super Bowl."
Goodell said the league will make a decision on whether to fine Lynch — for wearing an unlicensed hat at that Tuesday presser — after the Super Bowl.
Watch the video below, via CNN:
And you can watch Lynch's "I'm here so I won't get fined" press conference here, via ESPN:
[Image via screengrab]
— —
>>Follow Andrew Desiderio (@forza_desiderio) on Twitter
Have a tip we should know? tips@mediaite.com