Roginsky, Shillue Making Most of Big Opportunities as Fox Pivots to (Relatively) Younger Talent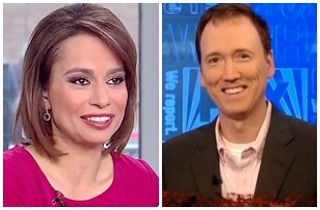 Change doesn't happen often at Fox News like it does at other cable networks. And given its dominance over the past 15 years, the old saying about not fixing things that ain't broken applies.
So if you're in the business on some level and looking become a host or co-host of an FNC program, for awhile it looked like that might not be the best career option. Some of the hosts on the network are coming up on 20 years of service (Doocy, Kilmeade, Cavuto, O'Reilly, Hannity). Most others you see now have been there for over a decade. There's simply not much turnover at Fox, and the level of loyalty and respect to/for Roger Ailes is something not seen at other networks, cable or otherwise.
But recently, FNC has seen some rare opportunities open up on the hosting front. Greg Gutfeld left Red Eye to host his own Sunday night show. Imus in the Morning is no longer on Fox Business and only exists on radio (FBN now rightly features Maria Bartitormo in that spot). Bob Beckel's personal problems (addiction to prescription drugs) led to him getting let go last week.
So for up-and-comers like Tom Shillue and Julie Roginsky, the changes have resulted in full-time gigs, at least for Shillue…who was named Gutfeld's replacement on Red Eye. On The Five, Roginsky appears to be in the driver's seat to replace Beckel, but no formal announcement has been made. Note: if Fox wants to continue to beef up its lead in the key younger demo that is the end-all, be-all for advertisers, it would be wise to make the Moscow-born, 42-year-old Roginsky a permanent fixture given the chemistry she has with her like-aged co-hosts (regulars like Kimberly Guilfoyle, Eric Bolling, Greg Gutfeld, Dana Perino range from 43 to 52-years old). From a visual perspective, the show really does look like a Manhattan happy hour (minus the $18 drinks).
Fox still skews older (all the cable news networks have average audiences easily older than the aforementioned 25-54 demo, with Fox dubiously leading in that category…but still easily wins said demo regardless). But with Megyn Kelly quickly becoming the face of the network and The Five continuing to thrive, it appears the pivot to younger is coming to fruition.
In the end, Roginsky– a former communications director for Jon Corzine during his time as a Democratic senator–is a pragmatist, doesn't need to scream (and therefore be annoying) to be effective, possesses dry wit (see: not a phony), and comes in measured, prepared and credible. In other words, she's the opposite of Anthony Weiner…who nominated himself this week for the job. Geraldo Rivera and Juan Williams are also being considered, according to the network.
As for Beckel––the former campaign manager for Walter Mondale––his relapse shows just that no recovery is ever complete. Every day is a challenge. One slip could lead to days, weeks, even months being off the job. And in the case of Beckel, it cost him what arguably is the greatest job in cable news: talking about all sorts of stuff for 44 minutes with other people around a table, and doing so totally unscripted outside of the segment intros and teases. Coming from someone who hosts a national 60-minute panel program (granted… to a slightly smaller audience), it is about as good as it gets. Tons of different topics both serious and stupid, no real editorial barriers, and most importantly, a forum to simply be yourself.
The hope here––as it is for anyone battling addiction––is for Beckel to get back on his feet and eventually sign with another cable news network. MSNBC's Morning Joe makes the most sense (would serve as a quality foil for Scarborough) and the show certainly could use a spark. Beckel can abaolutely provide one, as he brings a grouchy, fearless candor and unique brand to the table. Regardless of where he goes or if decides to retire, we all wish him well.
In the meantime, Shillue gets Red Eye while getting more at-bats in Gutfeld's place (when Greg is off to prepare for his show) on The Five.
And Julie Roginsky gets the huge opportunity she likely didn't think was a possibility even six months ago, given how little things change is at Fox News. After over a decade as a contributor without a daily home for Fox and CNBC and Fox again, she's certainly earned the promotion if the powers that be see what should be obvious in terms of tone and talent.
— —
>>Follow Joe Concha on Twitter @JoeConchaTV
Have a tip we should know? tips@mediaite.com