Roland Martin Blasts O'Reilly: 'Blame Sorry Cops Who Don't Wanna Do Their Job' For Murder Spike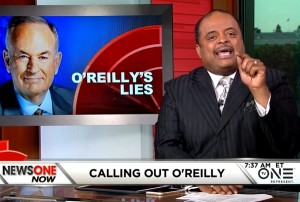 Fox News host Bill O'Reilly continued his predictable verbal assault on the black community this week by blaming the #BlackLivesMatter movement for an alleged spike in murder rates in major cities. On Thursday morning, News One Now host and National Association of Black Journalists award-winner Roland Martin called O'Reilly out for refusing to hold police accountable, and challenged O'Reilly, once again, to debate him on the subject.
Martin has been sharply critical of O'Reilly in the past, and in this segment, took exception to O'Reilly's one-sided coverage of crime and policing, asking why the Fox News host doesn't cover stories like the Pennsylvania police officer who punched a woman in the face and smashed her phone during a recent traffic stop, and for treating clear instances of brutality as "isolated incidents."
Martin also called on O'Reilly to put the blame for the effect that he observes, that police are allegedly backing off enforcement because they fear being videotaped, where it belongs, and issued a now-familiar challenge:
The reality is this: Black Lives Matter has forced a level of accountability in America dealing with police that we have never seen. And the people to blame for crime going up are these sorry cops who don't wanna do their job, but they want to draw their paychecks, and they want their pension. They're the ones who are not doing their jobs, they're the ones who should be patrolling. And I'll say this, if you're a cop doing stuff right, you shouldn't be afraid if you're caught on videotape.

…Every time you call out Black Lives Matter, and you're wrong, I'ma check you, Bill. Because in this case, you're a flat-out liar. And I'll say it again, if you want a debate, call me.
O'Reilly's assertion has also drawn pushback from none other than President Obama, as well, who said recently through his spokesman that there's no evidence to support the contentions of O'Reilly, as voiced in speculation by FBI Director James Comey. "There still is no evidence to substantiate the claim that the increase in violent crime is related to an unwillingness of police officers to do their job," White House Press Secretary Josh Earnest told Fox News' James Rosen, adding that "the President's point is that as we consider policy approaches to addressing those communities where we've seen an uptick in violent crime, we need to be making policy decisions that are based on facts and evidence, and not anecdotes."
Indeed, the data that O'Reilly cites, which is itself extremely preliminary, doesn't really show what he says it does:
The data showed particularly significant increases in homicides in six cities in the first three months of the year compared with the same period last year — Chicago, Dallas, Jacksonville, Fla., Las Vegas, Los Angeles and Memphis. But almost as many cities reported a notable decline in recent months.

New York saw a 25 percent drop, while Las Vegas's homicide total nearly doubled.
It's possible, however, that Comey and O'Reilly are right, and if that turns out to be the case, then Roland Martin is absolutely right. The solution is not to turn the cameras off, but to get police officers who can operate in the daylight.
Have a tip we should know? tips@mediaite.com