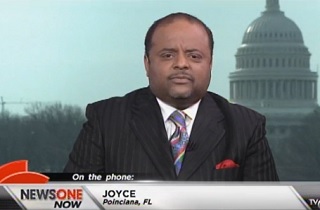 Whoever said "Dying is easy, comedy is hard" probably should have also included live television in that adage, because even with a 5-second delay, a censor's job can be rough. For example, on Monday morning's NewsOne Now, host Roland Martin took calls from viewers weighing in on the three game suspension of college basketball star Marcus Smart, and the very first caller's repeated use of the n-word was too quick for the bleep button, resulting in a panicky cut to a shot of the channel's logo.
Over the weekend, Oklahoma State star hoopster Marcus Smart shoved Texas Tech fan Jeff Orr following a play that sent the guard into the stands, and which Smart claims was prompted by Orr's use of a racial slur. Smart later apologized, as did Orr (while denying using the slur), but on Sunday, the Big 12 Conference announced that Smart will be suspended for three games over the incident.
On Monday morning's NewsOne Now, host Roland Martin's Question of the Day was "Should Oklahoma State's Marcus Smart be suspended for shoving a fan who allegedly called him the N-word?"
His first caller was Joyce from Poinciana, Florida, and she called it like she saw it, saying that Smart "should not be suspended," and adding that "I had this experience twice in my career. In my twenties, I was training a young Anglo-Saxon girl, and she came in from break and said 'I don't want that nigger tr…"
At that split-second-too-late point, the censor blanked out part of Joyce's call, but then she continued, "Just before I retired, in my fifties, I had another woman say 'That nigger don't…," at which point her audio was cut again, and a quick cut to a station ID came up onscreen. When Joyce came back, still in progress, she added "and the manager, the first time, an administrator sat them down, the first time, the girl got fired, the later one got reprimanded."
"Joyce, you ain't a fighter, huh!" Roland exclaimed.
"We're in a society where Anglo-Saxons, in some of the society, feel privileged that they can say what they want. That man was performing his job!" Joyce replied, adding "That spectator should have kept his mouth shut!"
Roland's other callers also agreed with Smart's reaction.
Here's video of the exchange, from NewsOne Now:
Have a tip we should know? tips@mediaite.com