Roland Martin Confronts Ben Carson Over Obamacare 'Worst Thing Since Slavery' Comments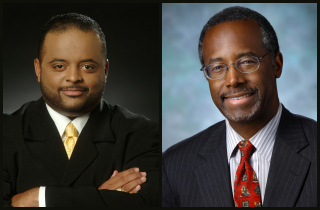 On his NewsOne radio show Friday morning, Roland Martin confronted Dr. Ben Carson over his recent comments that Obamacare is "the worst thing that has happened in this nation since slavery."
Noting other post-slavery issues like Jim Crow laws, Martin asked, "Did you go too far?"
"That's my opinion," Carson responded. "First of all, I recognize that slavery was a horrible thing … I realize how horrible it was … I didn't say this is as bad as slavery, I said this is the worst thing since slavery."
"Which includes Jim Crow," Martin shot back.
-RELATED: This Week in Buffoonery: Oprah, Bunny Sex, Anti-Tea Party Metaphors, and More!
"Yes, absolutely," the neurosurgeon explained. "This nation was founded on the principle that it would be a new type of nation, that was for, of, and by the people. A constitution was put in place that would assure that the people remain at the pinnacle of power and that the central government would never reach the point where it had control of the people. [Obamacare] fundamentally changes the relationship."
The Affordable Care Act, Dr. Carson asserted, will give the government control over "everyone's health." Martin pushed back, declaring that the healthcare law empowers the individual. The doctor responded by saying that the law gets in between the patient-provider relationship.
"This is only the beginning," Carson continued. "What you will see is that a lot of the insurance companies will begin to fold … Ultimately we will have a single-payer system if we don't stop this from happening."
Listen below, via NewsOne:
— —
>> Follow Andrew Kirell (@AndrewKirell) on Twitter
Have a tip we should know? tips@mediaite.com