Roland Martin Slams Black Orgs: Demand Obama Nominate Black Woman to SCOTUS!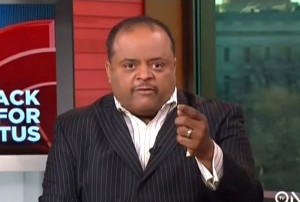 The red-hot political fight that ignited the moment Supreme Court Justice Antonin Scalia died got a little bit hotter today when prominent award-winning black journalist Roland Martin demanded that black organizations join the conversation about replacing the deceased justice. On Tuesday's News One Now, Martin rattled off a list of black civil rights organizations, fraternities, and sororities, and blasted them for remaining on the sidelines while President Obama's administration puts out trial balloons like Republican Governor Brian Sandoval:
Where are y'all? This is a moment where you have literally less than a year of a Black President in the White House. We've had two Black men appointed to the Supreme Court the President has appointed a Hispanic woman and a white woman to the Supreme Court. Why won't these organizations, all of you, publicly call on this President to appoint a Black woman? How hard is it to send a tweet? How hard is it to issue a press release? How hard is it to hold a news conference? If you talk about your leaders in the Black community, this is the time for you to stand up and lead. As Dr. King said, Now is the time.
There was early speculation about the possibility of President Obama nominating Attorney General Loretta Lynch, but the Beltway almost immediately pivoted to picks like Sandoval or Circuit Court Judge Jane Kelly, designed to box in Republicans who have refused to consider any nominee by the President.  California Attorney General Kamala Harris has also been buzzed-about for the appointment, but has said she is not interested,
Have a tip we should know? tips@mediaite.com