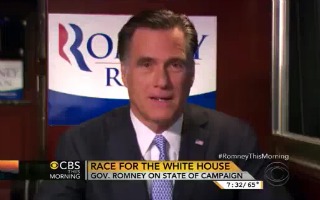 Republican presidential candidate Mitt Romney appeared on CBS This Morning where he went after President Barack Obama and Vice President Joe Biden for running a divisive campaign based on little beyond the desire to remain in power its own sake. He also said the American people want to see a cleaner campaign based on ideas, but that is not what they are getting from the President at the moment.

RELATED: Obama Campaign Spox: Biden's 'Chains' Comment Just Like Republicans Saying 'Unshackling'
Romney was asked to elaborate on a fiery speech he delivered on Tuesday night in which he accused President Obama of waging a campaign of division.
"The President's campaign is all about division and attack and hatred," said Romney. "My campaign is about getting people back to work and creating greater unity in this country.
Romney was asked if he was as "unhinged" as the Obama campaign has accused him of being.
"I think unhinged would have to characterize what we've seen from the President's campaign," said Romney.
When asked to elaborate on his accusation that the Obama campaign is based on hatred, Romney said that he saw only "enmity and jealousy and anger" from Obama. "This is not, in my view, what Americans want to see."
Romney said that he felt the President was running for reelection only to "hang on to power" and that Obama would "do anything in his power to try and get re-elected." He said that Obama's lack of vision was clear due to the tone of the campaign he has run.
"These personal attacks, I think, are demeaning to the office of the White House," Romney continued. He said that Vice President Joe Biden's comments, in which he said Republicans were going to put people in chains, were equally divisive.
Watch the segment below via CBS:
> >Follow Noah Rothman (@Noah_C_Rothman) on Twitter
Have a tip we should know? tips@mediaite.com