Romney Adviser On MSNBC: Obama Campaign Should Change Slogan From 'Forward' To 'Backward'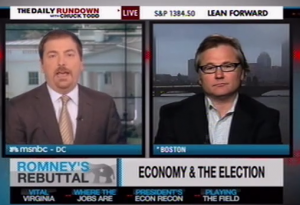 Eric Fehrnstrom, senior adviser to Mitt Romney, appeared on The Daily Rundown on Friday to discuss everything from President Obama's new campaign slogan to openly gay spokesman Richard Grenell's resignation.
RELATED: Romney Spokesman Richard Grenell Resigns Following Backlash For Being Openly Gay
Chuck Todd started things off with today's jobs report, asking Fehrnstrom to comment. "I think the Obama campaign should change its slogan from 'Forward' to 'Backward,'" he said. The report is weak and the president has "failed" to turn the economy around, he added.
Todd reminded him that all the jobs lost have been replaced. "Americans are still coping with a very bad economy," Ferhnstrom said. "The numbers are just not there." He added, "I can't think of a more fitting back drop to the kickoff of the president's re-election campaign tomorrow than yet another dreary economic report."
Later in the segment, Todd pivoted to Grenell's resignation, also asking about Grenell being asked not to speak during a recent conference call. Ferhnstrom responded:
I have a lot of respect and admiration for Ric Grenell. This is a person who was supremely qualified to be the foreign policy spokesman. He did decide for his own reasons that his effectiveness was going to be compromised. He made a decision to resign.[…] That was a conference call where we featured our foreign policy advisers. It was not a call where the staff was encouraged to be speaking with reporters, but where we wanted to put the focus on our foreign policy team.
Todd followed up: "You said he resigned because he thought his effectiveness had been compromised. Is this having to do with the fact that some social conservatives appeared to publicly be going after him?"
Fehrnstrom responded:
I don't want to speak for Ric. I will say that, of course, there were voices of intolerance that expressed themselves during this debate. That was unfortunate. Mitt Romney has confronted those voices of intolerance. He did it last October on stage at the Values Voters Summit and denounced some of the poisonous language that is being used by some of the same people that had criticized Ric Grenell's appointment.
Take a look, via MSNBC:

Have a tip we should know? tips@mediaite.com