Romney Adviser Takes Andrea Mitchell To Task For Focus On Romney's Libya Statement Over Obama's Inaction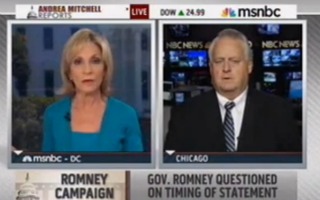 On Wednesday, MSNBC host Andrea Mitchell squared off in a contentious interview with former American Ambassador to the United Nations for Special Affairs and foreign policy adviser to Mitt Romney, Richard Williamson. The two sparred over the appropriateness of Romney's reaction to the hours-old attacks in North Africa and the White House's response. In the interview, Williamson took the entire press corps to task for their focus on Romney over the U.S. government's insufficient response to the attacks. "If you don't have the facts, you argue process," said Williamson.

First, Mitchell asked Williamson whether he thought it was appropriate for the Romney campaign to issue any kind of statement before the State Department could correctly identify the names of the victims killed in the attack on the American consulate in Benghazi.
"As a lawyer, I'm familiar with the old saw – if you don't have the facts, you argue process," Williamson replied. He said that the substance of Gov. Romney's statement on the attack on Tuesday night was true and Barack Obama's campaign has chosen to challenge Romney on the timing of that statement rather than the facts.
Mitchell challenged an assertion made by Williamson, saying that a statement from the U.S. embassy in Cairo condemning a film which insulted Islam was released prior to protests that eventually culminated in the breach of that embassy.
"Do you think it was appropriate for Gov. Romney to issue a statement last night when the State Department, the CAI, the White House were all scrambling to find out who were these Americans," Mitchell asked. She went on to ask if it was responsible for Romney to hold a press conference before the president had the chance to weigh in on the attacks. "Does it seem to be injecting politics into a national tragedy?"
Ambassador Williamson took a breath, closed his eyes and drank in the substance of that question – certainly frustrated, after watching Romney deal with a press corps which focused seven of eight questions on the appropriateness of the timing of Romney's response rather than his policy preferences for Libya.
Then, more in sorrow than in anger, Williamson said with a sigh, "Andrea, you're an experienced reporter."
"You've had the same questions asked about your own reporting from time to time," Williamson continued. "You've seen American political personalities making statements in difficult times."
"You're engaging in a process question," Williamson said. "What's important is the substance of what's going on in the Middle East where the U.S. is being compromised and in retreat."
Watch the segment below via MSNBC:
> >Follow Noah Rothman (@Noah_C_Rothman) on Twitter
Have a tip we should know? tips@mediaite.com