Romney Advisor Battles Andrea Mitchell Over GOP Being Two Weeks Late To 'Defining Civil Rights Issue'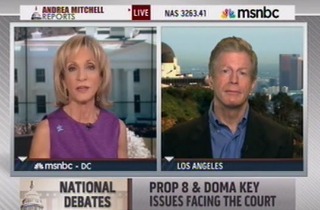 Stuart Stevens, a contributor for The Daily Beast and Mitt Romney's 2012 campaign manager, joined MSNBC host Andrea Mitchell for a discussion about the pace of endorsements of gay marriage rights among American lawmakers. Stevens took exception to Mitchell's assertion that Republicans are on the wrong side of "the defining civil rights issue of our time" when less than two years ago, depending on the politician, most Democrats were on that same side of the issue of same-sex marriage. He found the effort to define support for gay marriage as a political litmus test for to be both cynical and unproductive.

RELATED: Andrea Mitchell Visibly Shocked After Sununu Calls Obama 'Lazy,' Asks Him If He Would Take It Back
Mitchell began the interview by accusing most of the GOP's leaders of "not moving in the direction" of public opinion on gay marriage rights fast enough in comparison to Democratic Party officials.
"200 hours ago, or so, Hillary Clinton hadn't announced that she was for gay marriage," Stevens replied. "The 2008 Democratic platform that Barack Obama ran on was not for gay marriage."
Stevens said that the issue of accepting gay marriage was not a political issue but an individual one, as evidenced by the fact that you had "Hillary Clinton following [Sen.] Rob Portman (R-OH)."
Mitchell asked if Stevens though same-sex marriage is a civil rights issue and Republicans continue to be on the wrong side of that issue. "To say that this is a litmus test on civil rights when four years ago the Democratic Party was against it I think is just not productive to the discussion," Stevens replied.
Stevens said that the impulse to score political points on gay marriage will hinder the ability of adults to have open conversations with each other about the matter and will ultimately hurt the cause of gay marriage proponents.
Mitchell asserted that, if one concedes that gay marriage is a civil rights issue, than the question becomes one of morality and the GOP's position is, therefore, amoral.
"So, two weeks ago Hillary Clinton was on the wrong side of the definitive civil rights issue of our time?" Stevens asked. "And a year and a half ago, Barack Obama was on the wrong side of the definitive civil rights issue of our time?"
Watch the segment below via MSNBC:
> >Follow Noah Rothman (@NoahCRothman) on Twitter
Have a tip we should know? tips@mediaite.com