Romney Advisor To Candy Crowley: Romney 'Retired Retroactively' From Bain
Romney Advisor On CNN: Romney 'Retired Retroactively' From Bain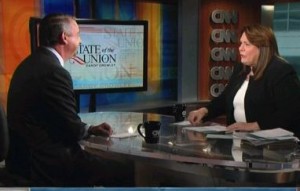 Romney campaign advisor Ed Gillespie sat down with Candy Crowley on CNN's State of the Union today to defend Mitt Romney from attacks over his tenure at Bain Capital from President Obama's campaign. He explained that Romney's name may have been on a few documents, but he took a leave of absence to focus on the Olympics and when he didn't return to Bain, he "retired retroactively."
RELATED: Bob Schieffer Confronts Obama Staffer Who Said Romney Either Lied Or May Have Committed Felony
Gillespie said he couldn't believe Romney was actually being accused of criminal activity by an Obama staffer, and attacked the president for being willing to "say or do anything" in order to stay in power. Crowley told Gillespie that doesn't mean Romney's tenure at Bain isn't incredibly confusing, asking him why there is a discrepancy between Romney's public statements and information in the SEC filings. Gillespie said that Romney was devoting his time after 1999 to preparing for the 2002 Olympics.
"Because of Mitt Romney's leadership skills, he was called on to do it, and he ended up not going back at all and retired retroactively to February of 1999 as a result."
Even though Romney's name was still on subsequent filings, Gillespie made it clear Romney was not involved in management or the day-to-day proceedings of the business, and blasted Obama's "Chicago-style politics" for trying to make the whole thing seem "sinister" and into a huge distraction in the middle of the campaign.
Crowley ended by asking Gillespie about why, if there's nothing to hide, the Romney campaign hasn't released more tax returns. Gillespie said that the campaign has been fully compliant with the law on financial disclosure and the only way the Obama campaign has been able to lob some of its financial attacks against Romney is due to what's already been released.
Watch the video below, courtesy of CNN:
—–
Follow Josh Feldman on Twitter: @feldmaniac
Have a tip we should know? tips@mediaite.com
Josh Feldman - Senior Editor