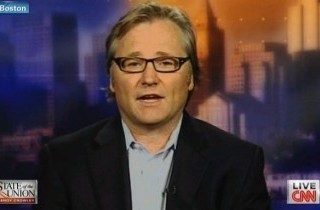 During an appearance on CNN's State of the Union Sunday mornoing, Mitt Romeny advisor Eric Fehrnstrom told fill-in host Jim Acosta that the presumptive Republican presidential nominee's taxes are "not an issue."
Thus far, Romney has release two years of tax returns, which is all that is obligated by law. Since that release, many people have called for the Republican nominee to release up to a decade of his returns, but those demands have been met with consistent refusal from the Romney camp.
"Mitt Romney came out and volunteered earlier this week that he had not paid less than 13% as an effective tax rate in his taxes. Why won't Mitt Romney prove it and just put his tax returns out there?" Acosta challenged the Republican advisor.
"Romney has said he will put out two years of tax returns and put out his full 2010 return and hundreds of pages that is on his website. He will put out the 2011 once it is complete and filed," Fehrnstrom replied. "He has had financial disclosures going back to 2002 when he was Governor of Massachusetts."
"Look," he continued, "taxes are not an issue. And it is not what the American people are talking about. Just last month we learned that 44 states saw their unemployment rates go up, and what is Obama's answer to that? Higher taxes and more spending. If you are unemployed in America, you must feel like a drowning person who has just been thrown an anchor."
Watch below, via CNN:
— —
>> Follow Andrew Kirell (@AndrewKirell) on Twitter
Have a tip we should know? tips@mediaite.com