Romney Calls For Special Investigation Into Intelligence Leaks, Feinstein Chides Romney For Politicizing Leaks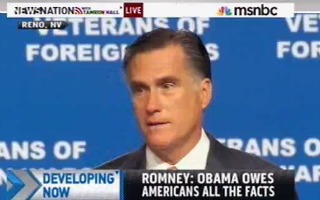 On Tuesday, Mitt Romney called for a special investigation into leaks of sensitive national security intelligence to the press that some have alleged come from the White House. Romney said that "the time for stonewalling is over," but his calls for an independent investigation met with resistance from Senate Intelligence Committee Chairwoman Sen. Diane Feinstein (D-CA) who expressed concern that Romney could be politicizing the leaks issue.

RELATED: Democratic Sen. Feinstein Accuses Obama White House Of Leaking Sensitive Intelligence To Press
Romney told an audience at the Veterans of Foreign Wars conference on Tuesday that even President Barack Obama's own first Secretary of Defense Bob Gates told members of the West Wing staff to "shut up" when he read about operational details of the raid on Osama bin Laden's compound in the press.
Romney said that he was astonished that details about that raid and even covert operational details were being leaked to the press. "This isn't a partisan issue," said Romney. "It's a national security crisis."
He mentioned Sen. Feinstein who told an audience at the National Press Club on Monday that she believes the leaks come from staff members within the White House.
"This conduct is contemptible," said Romney. "It compromises our men and women in the field and it demands a full and prompt investigation by a special council with explication and consequence. Obama appointees, who are accountable to President Obama's Attorney General, should not be accountable for investigating the leaks coming from the Obama White House."
"Whoever provided classified information to the media seeking political advantage for the administration must be exposed, dismissed and punished," Romney concluded.
Feinstein later pushed back against the presumptive Republican presidential nominee's call for a special investigation. CNN's Dana Bash took to Twitter to report that Feinstein told her she does not want the leaks to become politicized and hopes that the issue stays out of the presidential campaign.
JUST IN: Dianne Feinstein issues statement pushing back on Romney – saying she believes potus is upset and doesnt want this to get political

— Dana Bash (@DanaBashCNN) July 24, 2012
Watch Romney calling for an independent investigation below via MSNBC:
> >Follow Noah Rothman (@Noah_C_Rothman) on Twitter
Have a tip we should know? tips@mediaite.com