Romney Camp Tells Fox News Paul Ryan Must 'Faithfully Stick To The Governor's Policies' At Debate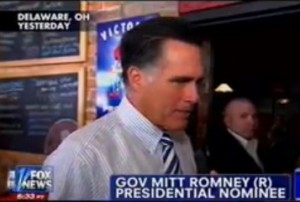 Give credit to Fox News for covering Republican presidential candidate Mitt Romney's IHOP-worthy flipping on abortion, but even more credit for their unintentionally funny (or not?) juxtaposition of a little nugget about Paul Ryan's debate prep. Just before playing a clip of Romney's description of the legislation that he earlier swore was not part of his agenda, Chief National Affairs Correspondent John Roberts said that the Romney campaign told him that, at tonight's vice-presidential debate, Paul Ryan has been given instructions to "faithfully stick to the governor's policies."
While he's at it, Ryan should dutifully fold up the sky and put it in his pocket.
On Tuesday, former Massachusetts Governor Mitt Romney told The Des Moines Register that "There's no legislation with regards to abortion that I'm familiar with that would become part of my agenda," only to have his campaign clean up after him by releasing a statement that said "Gov. Romney would of course support legislation aimed at providing greater protections for life."
Then, on Wednesday, Romney himself told reporters that "I think I've said, time and again, that I'm a pro-life candidate. I will be a pro-life president. The actions I will take immediately are to remove funding for Planned Parenthood. It will not be part of my budget. And also I've indicated I will reverse the Mexico City position of the President. I will reinstate the Mexico City policy."
Either Romney doesn't know that budgets are pieces of legislation, or he is still just a liar.
So now, the Romney campaign is telling Paul Ryan to do something that even Mitt Romney can't do, to "stick faithfully to (Romney's) policies. Maybe part of Ryan's debate prep could be devoted to telling him what those are.
Here's the clip, from Fox News:
Follow Tommy Christopher (@TommyXtopher) on Twitter.
Have a tip we should know? tips@mediaite.com