Romney Condemns Obama Administration's Reaction To Libya Attacks, Defends Tone Of His Response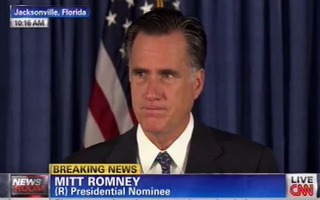 Republican presidential candidate Mitt Romney delivered a statement on Wednesday condemning the attacks on American service personnel in Libya on Tuesday and attacked President Barack Obama's response to those attacks. He took questions from the press in which he was repeatedly asked to defend the tone and promptness of his campaign's response to the unfolding attacks in North Africa.

"Americans woke up this morning with tragic news and felt heavy hearts as they considered that individuals who served in our diplomatic corps were brutally murdered across the world," said Romney.
Romney called the attack in Libya "outrageous" and "disgusting." He extended his condolences to the families and friends of those who were killed in service to their country.
"America will not tolerate attacks against our citizens and against our embassies," Romney continued. "We'll defend, also, our constitutional rights of speech and assembly and religion."
"We have confidence in our cause in America," said Romney. "We encourage other nations to understand and respect the principles of our Constitution because we recognize these principles are the ultimate source of freedom for these individuals around the world."
Romney attacked President Obama for standing by a statement issued by the U.S. embassy in Cairo which condemned an American filmmaker for his offensive portrayal of Islam.
"It's never too early for the United States government to condemn attacks on Americans and to defend our values," said Romney. He said that the Obama administration's distancing of themselves from the Cairo embassy statement late last night "reflects the mixed signals they are sending to the world."
"America cannot shrink from our responsibility to lead," said Romney. "We cannot hesitate to use our influence in the region to support those who share our values and our interests."
He went on to say that the Arab Spring presents as much opportunity as it does peril. "We must strive to ensure that the Arab Spring does not become an Arab Winter."
Romney went on to take questions from the press. He was asked by a reporter if he regretted the tone of a statement he released late last night condemning the attacks and the Obama administration's response to those attacks.
Romney replied that he said that it is a "terrible course for America to stand in apology for our values." He said that America's first response in such an event should be "outrage."
Romney was asked again by a second reporter if he felt his campaign should have weighed in on the crisis as soon as they did. "When an embassy has been breached by protesters, the first response should not be to say 'yes, we stand by our comments that suggest that there is something wrong with the right of free speech,'" said Romney.
Romney said that the Obama administration is responsible for the statements of all those who are responsible tot eh executive branch, including embassies of the U.S. State Department.
Another reporter asked if it was appropriate to criticize the Obama administration while Americans were being killed overseas and asked if that, too, constituted a mixed signal to the global community.
Romney replied that this event shows the difference of opinion that he has with the president on matters of national security and those distinctions are critical to make for voters.
Romney was asked if his economic expertise would become a liability as foreign policy now becomes an issue in the 2012 campaign. Romney replied by outlining his preferred response to international crises and said that President Obama has not offered "sound foreign policy."
Watch the press conference below via CNN:
> >Follow Noah Rothman (@Noah_C_Rothman) on Twitter
Have a tip we should know? [email protected]