Mitt Romney Defends His Conservatism: Ted Kennedy Had To Take Out A Mortgage To Beat Me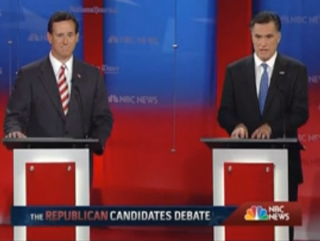 Mitt Romney— or anyone else on the stage, for that matter– was not about to escape tonight's debate without being asked to explain and defend just how conservative he is. And he took that opportunity with gusto, though his answer about his record took a bizarre detour when he, once again, used the fact that Ted Kennedy had to take out a mortgage on his house to beat him in a Senate race.

RELATED: Mitt Romney On Illegal Immigration: 'The Answer Is Self-Deportation'
The question proposed to Romney was whether he had an answer to many who called him "insufficiently conservative." "I have a record," he replied, but immediately added, "and the fun of running against Ted Kennedy, what a great thrill that was. I didn't beat him, but he had to take a mortgage out on his house to make sure he could defeat me." He continued by defending Romneycare, adding, "My health care plan is one that, by the way, is one that we're allowed to have under our Constitution." He then promised to repeal Obamacare, as he did not think it was valid under the federal constitution.
The mortgage quip is a line that Romney has used before, and it received similar levels of cringing last time, but as this has been one of the more low-key debates as far as tone and flair is concerned, something about him emphasizing the mortgage taken out just screams "tone deaf." After what happened to the housing market in 2008, trying to get people to like him by bragging that he forced someone else to take out a mortgage on their house is Romney is a major unforced error on his part that adds to the image of him as Monopoly Man caricature.
The segment via NBC below:

Have a tip we should know? tips@mediaite.com