Romney: I Was 'Upset' Candy Crowley 'Decided That Barack Obama Was to Get the Last Word'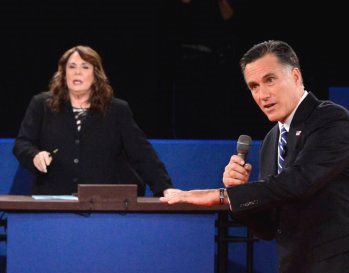 During an interview with conservative radio host Hugh Hewitt, former Massachusetts Gov. Mitt Romney was asked for his unguarded thoughts on how the 2012 presidential election campaign unfolded. Romney told Hewitt that he was "upset" by CNN anchor Candy Crowley's decision to "insert" herself into the debate and disregard the rules that the candidates had agreed upon prior to that event.

Hewitt asked about the moment in which Crowley corrected an assertion about the 2012 attack in Benghazi which she later admitted was a debatable assertion to make. "Did you feel she was unfair at that moment in the debate?" Hewitt asked.
RELATED: Candy Crowley's Debate Moderation Exemplifies Why Americans Do Not Trust Their Media
"I don't think it's the role of the moderator in a debate to insert themselves into the debate and to declare a winner or a loser on a particular point," Romney replied.
"And I must admit that, at that stage, I was getting a little upset at Candy, because in a prior setting where I was to have had the last word, she decided that Barack Obama was to get the last word despite the rules that we had," he continued. "So she obviously thought it was her job to play a more active role in the debate than was agreed upon by the two candidates.
"I thought her jumping into the interaction I was having with the President was also a mistake on her part, and one I would have preferred to carry out between the two of us, because I was prepared to go after him for misrepresenting to the American people that the nature of the attack," Romney concluded.
Listen to the clip below via The Hugh Hewitt Show:
[Photo via screen grab]
— —
> >Follow Noah Rothman (@NoahCRothman) on Twitter
Have a tip we should know? tips@mediaite.com