Romney On Falling American Worth: That's Why Obama's 'Campaign Slogan 'Forward' Is So Absurd'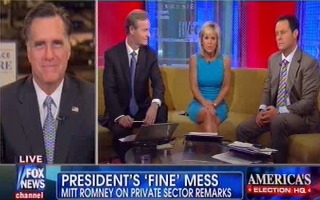 Republican presidential nominee Mitt Romney appeared on Fox & Friends on Tuesday where he talked with the hosts about President Barack Obama's recent private sector gaffe and a statistic that revealed American's net worth has fallen by 40 percent from 2007 – 2010. When asked about this statistic, Romney replied "That's why the idea of selecting as a campaign slogan 'forward' is so absurd," said Romney.

RELATED: John Sununu On MSNBC: There's 'Wisdom' In Romney's Police/Firefighters Comment
Romney was asked for his thoughts on the Obama's statement from last Friday that the private sector was "doing fine."
"He's had a number of very revealing comments that show just how far out of touch he is with what's happening in the country," said Romney. Romney said that Obama didn't realize that the health care reform law that he signed in 2010 was having an adverse effect on employment.
"He says that you're out of touch," responded co-host Brian Kilmeade. "He said that you want to cut firefighters and teachers. That you don't understand what's going on in these communities. What do you say to that, Governor?"
"That's a very strange accusation," said Romney. "Teachers and firemen and policemen are hired at the local level and also by states." Romney said that the idea that the federal government has any control over the employment level of these professions is "absurd."
"He's got a new idea though," Romney continued. "And that is to have another stimulus. And to have the federal government send money to try to bail out cities and states. It didn't work the first time. It certainly wouldn't work the second time."
Co-host Steve Doocy asked Romney for his thoughts on a statistic released by the Federal Reserve that the net worth of the American family has fallen dramatically since the recession began in 2007 due primarily to falling home values.
"That's why the idea of selecting as a campaign slogan 'forward' is so absurd," said Romney. He talked about a number of people that he knows who are facing hard times. "The President needs to go out and talk to the people – not just do fundraisers – go out and talk to people in the country and find out what's happening."
Co-host Gretchen Carlson said that some pro-Obama Super PACs are going to continue to attack Romney based on his record with Bain Capital, despite the warnings of some prominent Democrats that the party should discontinue those attacks. Carlson asked Romney if she thought that would hurt or help his campaign moving forward.
Romney said that his record is one of a business professional and the President has a bad record with business. "People recognize that the President may be well meaning, but he's just out of touch with what's happening across the country," Romney concluded.
Watch the segment via Fox News Channel:
Follow Noah Rothman on Twitter
Have a tip we should know? tips@mediaite.com