Romney On Fox & Friends: Solutions Needed For 'New Problems That Were Created By President Obama'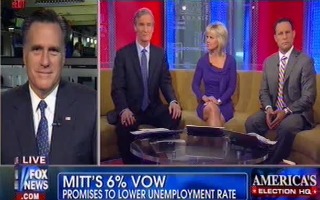 Former Massachusetts Gov. Mitt Romney appeared on Fox & Friends on Thursday where he further detailed his proposal to get unemployment below 6 percent before the end of his first term. He responded to President Obama, who said that Romney was outlining policies that echoed those of former president George W. Bush. Romney said "These are new problems that were created by President Obama."

RELATED: The Devil In The Details Of Mitt Romney's Interview With Time's Mark Halperin
Romney was asked about his 6 percent pledge and co-host Steve Doocy asked how he is going to achieve it. Romney laid out a three-part strategy for getting unemployment down to that level by the end of his first term.
You start off by saying let's stop something that's hurting small business from creating jobs, and that's Obamacare. Get rid of it. Number two, have an energy strategy that takes advantage of our natural gas and oil and coal as well as our renewables. Those low cost energy fuels will mean jobs eventually come back here – even manufacturing jobs that have left here. And finally get a handle on the deficit so that people understand if they invest in America, their dollar is going to be worth something in the future. Those are three big ideas that we have to move on right away if we want to get this economy going again.
Co-host Gretchen Carlson asked Romney to weigh in on an attack by President Obama that linked him to former President Bush's "bad ideas that nearly brought our economy to the brink of collapse." Carlson said that she thought Obama's speech indicated that he was "doubling down" on attacking Romney's record at Bain Capital.
I just described three of the things I would do. They have nothing to do with what's done in the past. Getting rid of Obamacare – that's a brand new problem. That's this President's problem. Getting an energy policy that takes advantage of our energy resources to bring jobs back to America – that's new. That's not anything old. And finally getting our handle on the deficit – he used to talk about that when he was candidate Obama. Now that he's President Obama and he's doubling the deficit, he doesn't want to talk about the fact that this kind of deficit, this kind of spending is scaring away jobs creators.
Romney went on to say that Obama's National Labor Relations Board and his "union stooge effort" have made it more difficult for small businesses to grow. "These are new problems that were created by President Obama," said Romney. "We need new solutions if we're going to get this economy going again."
Romney touched on Bain Capital and said that a recent report showed that 80 percent of their investments grew revenues.
Finally, co-host Brian Kilmeade asked Romney about an interaction he had on the stump where he believed Obama had misinterpreted. Kilmeade said that Obama took interpreted an interaction Romney had with someone who interpreted Romney saying "productivity equals income" as suggesting that individual was lazy. Romney said "he doesn't understand what the word productivity means."
"We think of Japan as being hard working. Americans work longer hours than the Japanese," said Romney. "I'm amazed he doesn't know what productivity means."
Carlson finally asked Romney whether he would go as far as conservative radio host Rush Limbaugh in saying that this President is going to campaign against free market capitalism. Romney said that it seems that's what is happening.
"They spend their lives as either community organizers or members of the political class," said Romney referring to the President and Vice President.
Romney concluded by saying that school choice will be a pillar of his campaign. He went after President Obama saying that he was holding teachers' unions "campaign cash and putting it ahead of the needs of our kids."
Watch the segment below via Fox News Channel:
Have a tip we should know? tips@mediaite.com